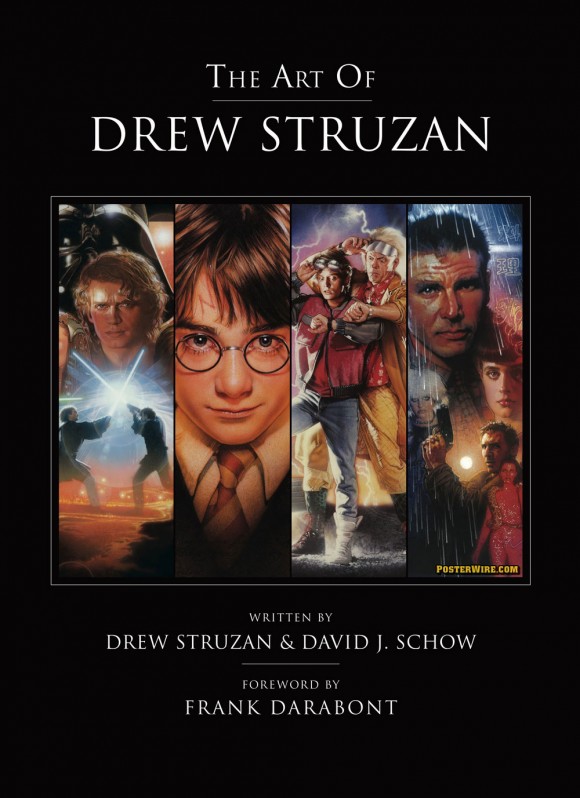 Drew Struzan Movie Poster Coffee Table Book
Just in time for the trailer for Drew: The Man Behind the Poster documentary covering the poster illustration work of Drew Struzan and his new poster artwork for Frank Darabont's upcoming AMC Series The Walking Dead, we were given a review copy of the new coffee table book The Art of Drew Struzan. (For someone who has retired, Struzan seems to be pretty busy lately.)
From book publisher Titan Books:
Described by Steven Spielberg as "My favorite movie artist", Drew Struzan has created some of the most iconic movie poster images of the last 30 years, from Raiders of the Lost Ark to Star Wars: Episode III. This is the first book to cover the acclaimed artist's movie work in depth, with a Foreword by Frank Darabont. Featuring over 300 pieces of artwork, from black and white and color comprehensives (presenting concepts and ideas) to final poster art, accompanied by excerpts from an exclusive interview with the artist, the development of 40 projects is related and explained. With scores of previously unseen pieces, including unused final poster art for movies such as Harry Potter and the Chamber of Secrets and Hellboy II, this is a treat for movie buffs and artists alike.
The Art of Drew Struzan book features a comprehensive look at the artwork of the most famous movie poster illustrator ever. His one-sheet creations range from blockbuster franchises including Star Wars, Indiana Jones, and Harry Potter, to obscure Spanish language comedies. One interesting aspect of the book is Struzan talking about the actual "process" of movie poster illustration, especially when it comes to dealing with the business side of film advertising, where movie studios and art directors are given the role of villain in the battle between advertising and art:
The studios only think digitally now. Most of the young people running the place never hired artists, never worked with artists, they don't know what to do with art if they had it, so it's all digital now. Even if they have it and you show it to them… they [still] don't understand. I'm not the one to explain why they feel that way or why they don't understand, but it's what happened, it's what happened to my job, what happened to the industry.
This complaint about the "modern" film advertising business ushering in the "death of movie poster art" is a popular refrain for many. (This includes Struzan's biggest admirer, film director Frank Darabont). But there is a bit of irony in Drew Struzan's comments about the "young people running the place" when you consider the work of his own son Christian Struzan, a film advertising creative director working in the very same industry Drew now laments.
Buy The Art of Drew Struzan movie poster book at: Amazon.com