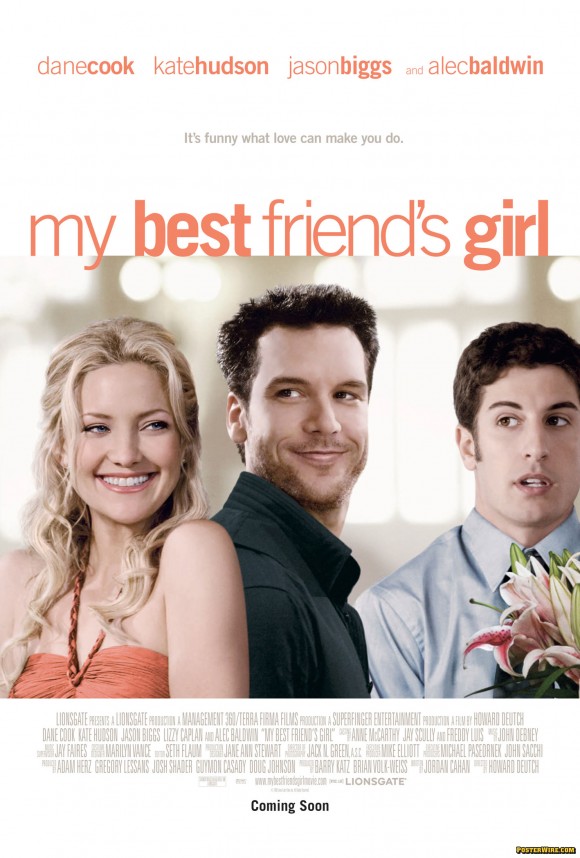 Dane Cook Hates My Best Friend's Girl poster
In what may turn into an on-going series of celebrities critiquing the movie poster campaigns from their own projects (see director Frank Darabont on The Mist poster), we now have comedian Dane Cook. Cook recently posted on his MySpace blog about his thoughts about the movie poster for his new film My Best Friend's Girl. A few thoughts on this movie poster from Dane Cook:
1. Graphics:
Whoever photoshopped our poster must have done so at taser point with 3 minutes to fulfill their hostage takers deranged obligations. They should have called Donnie Hoyle and had him give a tutorial using "You Suck at Photoshop" templates. This is so glossy it makes Entertainment Weekly look wooden.
2. My head:
The left side of my face seems to be melting off of my skull. I guess I am looking directly into the Ark of the Covenant? Are they going for the bells palsy thing here? My left side looks like Brittany Spears' vagina.
3. The Stare.
My character apparently has fallen in love with a strand of Kate Hudsons hair. Kate's mannequin is desperately in love with the inside of my right ear while Jason is half stunned, half corsage.
4. Lips:
It looks like I'm wearing Maybelline Water Shine Diamonds Liquid Lipstick. My characters name is now Winter Solstice and I'm a hooker with a heart of gold. Jason is my floral carrying pimp, while Kate is my first trick!
Interesting comments, and no need to re-hash the perils of the "constructed reality" in movie posters based around unit photography and head strips. But you have to wonder if Dane Cook hates the My Best Friend's Girl movie poster key art so much, why did he incorporate the Flash animated version of the same movie poster art on his own personal site?
Buy My Best Friend's Girl movie posters at: AllPosters, eBay, Amazon