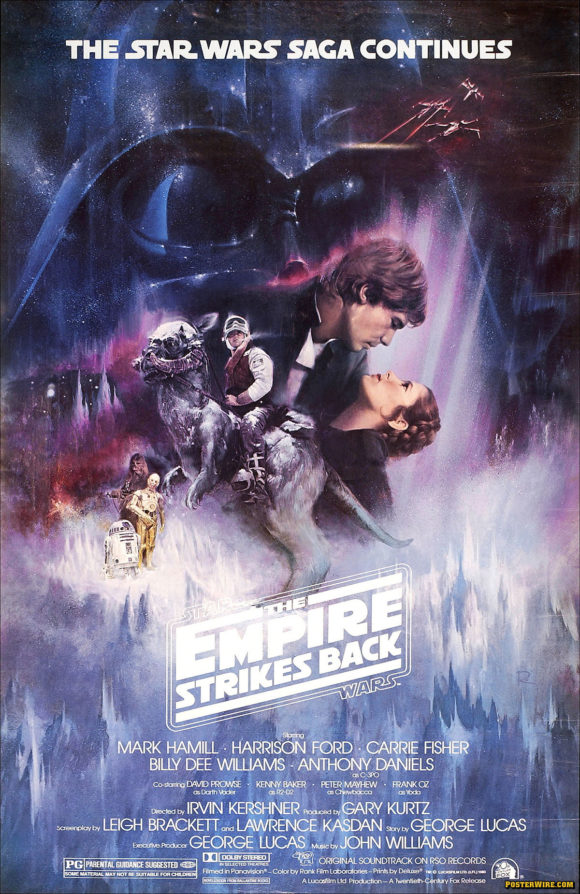 The Empire Strikes Back "Gone with the Wind" poster
While the previously mentioned Star Wars "Circus" movie poster may be one of the most sought after Star Wars one-sheets for collectors, the most beautiful looking might be a popular movie poster for the 1980 sequel, The Empire Strikes Back.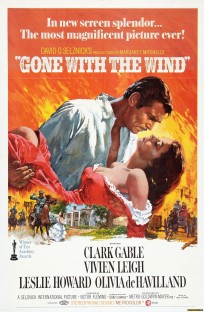 The Empire Strikes Back Style A poster was painted by artist Roger Kastel. The "Style A" poster is better known as the "Gone with the Wind" poster. The obvious reason being Kastel's artwork is based the iconic Gone with the Wind re-release movie poster designed by Tom Jung and illustrated by Howard Terpning. In the Star Wars version, Han Solo and Princess Leia are standing in for Rhett Butler and Scarlett O'Hara. Like the Empire film itself, the poster's deep blues and image of the romantic couple certainly hinted at more story than one might expect in a blockbuster science fiction / fantasy film sequel.
After the The Empire Strikes Back style A poster appeared in movie theatres, actor Billy Dee Williams reportedly complained to 20th Century Fox that he wasn't featured on the poster, despite his contractual billing in the film. The studio responded by immediately pulling the Empire movie poster from theatres, hence making it even more attractive to collectors. Later versions of the same artwork used combinations of new elements, including images of Billy Dee Williams (as Lando Calrissian), the Cloud City of Bespin, Yoda, and fan-boy favorite bounty hunter Boba Fett.
You can also buy something called a "The Empire Strikes Back Sculpted 3D Poster" version of this same Empire style A artwork, although looking at the sculpture itself, we don't know why you would want to do that.