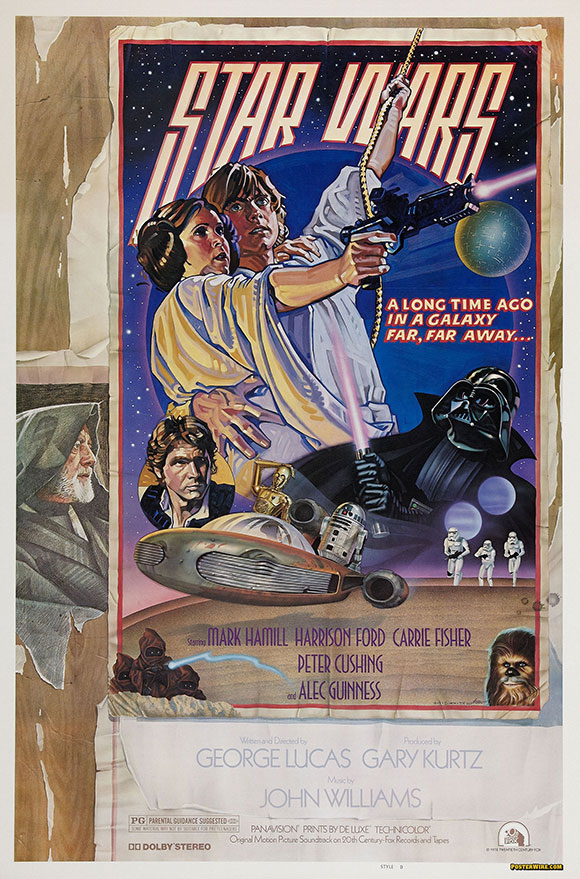 Star Wars Style D "Circus" Poster
With this week's release of the final Star Wars film, Episode III: Revenge of the Sith, we wanted to take some time this week to review Star Wars movie posters from the entire saga. Star Wars one-sheets still remain a top choice for movie poster collectors, even if the current trilogy has taken some sheen off the franchise.
For the 1978 re-release of Star Wars: A New Hope (Episode IV) in theatres, Lucasfilm hired airbrush artist Charles White III to create a new one-sheet artwork. White was uncomfortable with painting portraits, so he asked fellow artist Drew Struzan to collaborate on the poster by handling all the portrait work. According to Drew Struzan:
Somehow, he asked me to paint the portraits while he would paint the droids and the like… Only an extraordinary individual does anything so generous and unselfish.
This fateful gesture would lead to Drew Struzan's first piece of artwork for Lucasfilm, and it certainly wouldn't be his last.
The Star Wars Style D poster is more commonly known as the "Circus" poster, named for it's distinctive circus-style "posted bill" look, which includes torn edges and glimpses of a plywood wall background. This appealing layout was a "happy accident", explains Struzan.
They found out there wasn't enough room for the typography and the billing block they had left in the design. What can we do to make more space on a poster that's already been printed? Let's pretend it's posted, then they can put the type below the actual poster. We painted Obi Wan down the side and stuff across the bottom to make it wider and deeper.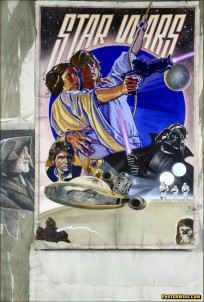 If you look closely at the poster itself, you can see where the original artwork was later surrounded by the "poster wall" effect. Note that the color pencil rendering of Ben Kenobi on the left side differs from the style of the rest of the poster's painted artwork.
The original Star Wars poster collage artwork was recently sold at auction. It's interesting to note some of the subtle differences between the original illustration (besides color correction) and the final Star Wars one-sheet artwork. One other often repeated piece of trivia about the artwork is that this is one of George Lucas's favorite posters — it's easy to see why.