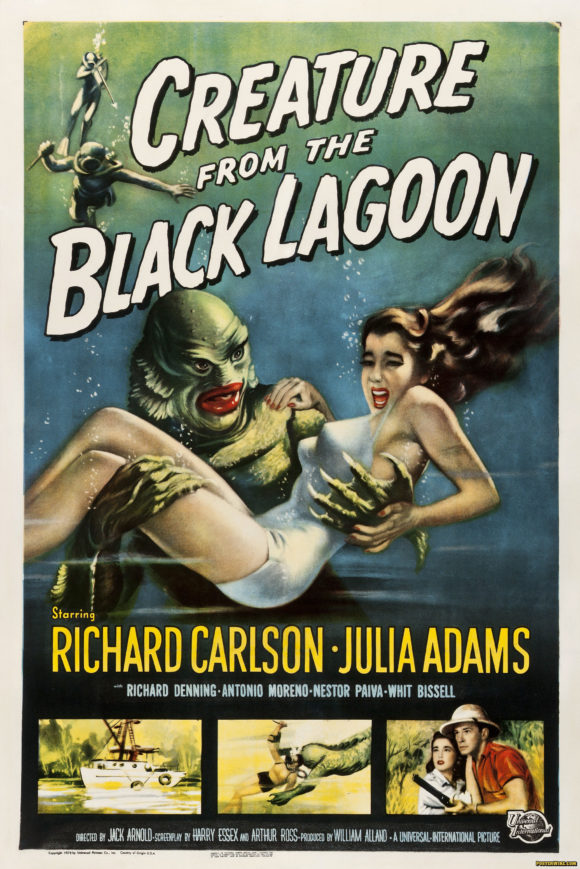 Horror Movie Poster Creatures
An interesting film poster key art subject matter are the many creatures (and monsters) found in the "wild kingdom". In honor of the upcoming Halloween holiday, we thought we would post a few images of movie posters featuring all matter of animals inflicting various types of terror, horror, and mayhem.
The deadly creature menace goes all the way back to the prehistoric era of dinosaurs (and in this case, fur bikinis). Many victims become worm food. Battle against an empire of ants. Overcome a swarm of angry bees or a single fly. There are creepy spiders. Dirty rats. Not so harmless birds. It may be raining cats and dogs. There are plenty snakes (without a plane). Kissing a few frogs might be dangerous. Watch out when the fish are biting. Speaking of biting, what is the difference between a crocodile and an alligator? An octopus may be one of the largest sea creatures, but the scariest of all sea life will always be sharks. Then again, some work really hard to avoid pigs. Others wonder if man descended from gorillas or (space?) apes. And don't forget the lions, tigers, and bears, oh my!
Then there are the most dangerous creatures of all: man… or is it woman?