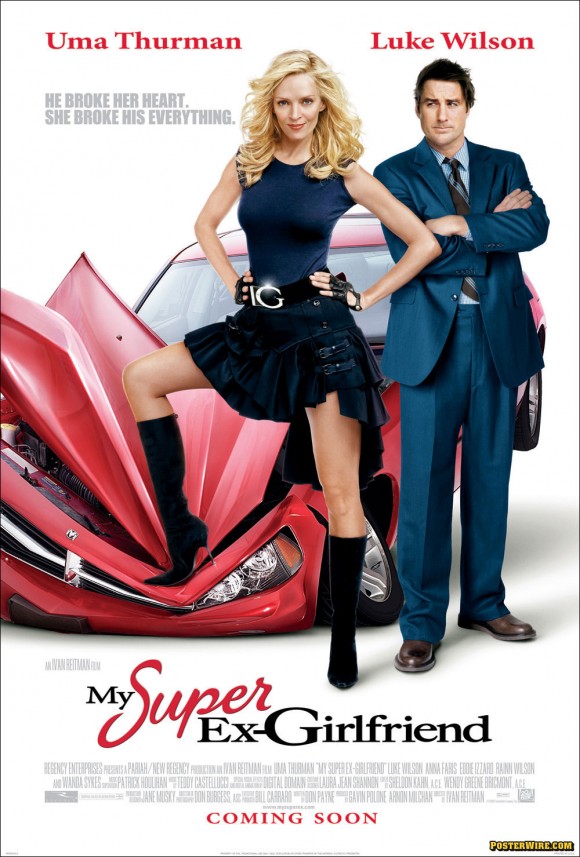 My Super Ex-Girlfriend poster
The weblog Ironic Sans points out that movie posters for the new Ivan Reitman comedy My Super Ex-Girlfriend are using the same Uma Thurman head strip on two different bodies.
"Someone grafted the exact same head onto this poster, too. If they weren't going to do a good job, couldn't they at least make it less obvious that it's the exact same head?"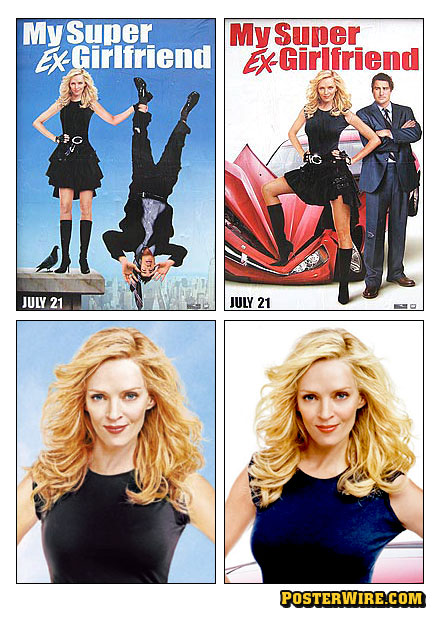 It's interesting the Ironic Sans site chooses to focus on the "cloned Umas" while giving the less than ideal Luke Wilson's body double on the My Super Ex-Girlfriend poster no mention. It is all another example of how difficult a movie poster body double / actor Frankenstein creation can be to pull off.
Using the same head on different bodies isn't uncommon (and sometimes a necessary evil). A possible explanation in this case might be that the head shot in question was the only "approved image" of Uma Thurman available for use at that time. Or perhaps a deadline forced the second poster artwork to use the same head shot. Or… we could speculate endlessly.
Most well-known movie stars have approval (either contractually or as a professional courtesy) over ALL photography of themselves available to a film's marketing campaign. For example, when images from a film (in unit shots, special shoots, etc.) become available, the images are first given to the actor for approval. Contact sheets (also known as proof sheets) of all the photography are sent to the actor, which are then sent back with a lot of red Xs — known as "kills" — marked through photos that the star (or more likely, their manager) don't want used. This is becoming less common with the advent of digital photography. This photo approval can be frustrating for designers working on the project if some/most/all of the best shots are "killed". This power to "kill" can be taken a step further when a star (or producer, director, etc.) has approval over the movie poster design of the final one-sheet. This is why one of the first questions asked by many art directors on many key art projects is: "Who has approval over this movie poster?"
Buy My Super Ex-Girlfriend movie posters at: AllPosters, eBay, Amazon