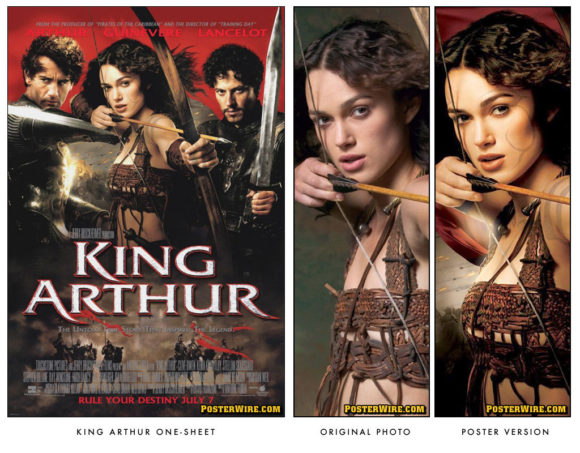 Enlarging Keira Knightley's Breasts
Actress Keira Knightley, in a recent interview, reminded everyone how her breasts were "digitally enhanced" back in 2004 for the King Arthur movie poster:
"I remember we had an interesting discussion when they said, 'We want to make them slightly larger and you'll get approval' and I was like, 'OK, fine.' I honestly don't give a shit.

But then they showed me the first copy and these things must have been double-Es — and they were down to my knees.

And I was like, 'I don't mind you making them bigger, but don't give me droopy breasts. They look like your grandmother's tits.'"
Keira seems to be trying to make a point about Hollywood's attitude about actresses and how they are marketed (News Flash: Americans like large breasts), but she goes on to admit she does have final approval over how she is portrayed in key art. In the same interview she says about appearing on magazine covers:
"I did one magazine and found out you're not actually allowed to be on a cover in the US without at least a C cup because it turns people off."
While that sounds more like something she heard from an intern at a magazine cover photo shoot rather than an industry wide rule, it remains to be seen how each and every magazine art director chooses to depict Knightley on a magazine cover. What is true is that images of actors (all actors) are retouched in one way or another when appearing in film print advertising. Most of the time this goes unnoticed, sometimes not.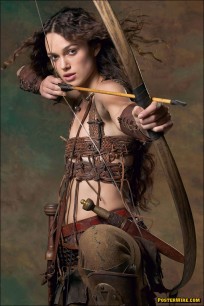 Looking at the special shoot image of Keira Knightley used for the King Arthur one-sheet, it's not surprising the art directors and film execs involved decided to rework her figure, as her chest appears to be flattened by a tight leather strap costume. Did the studio go too far? Hard to say. Perhaps next time they'll be able to highlight Keira Knightley's abs instead, which don't seem to need any enhancing.