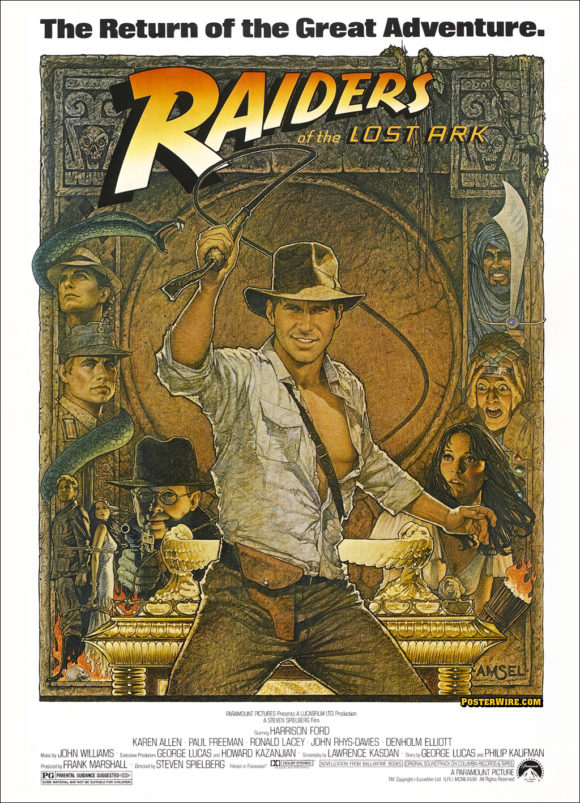 The Art & Artistry of Richard Amsel
To honor the premiere of the new Indiana Jones and the Kingdom of the Crystal Skull teaser trailer, we wanted to direct everyone to a new online article about artist Richard Amsel, who illustrated two of the original Raiders of the Lost Ark movie posters. From the author of the Richard Amsel article, Adam McDaniel:
The key to his success, beyond raw talent, was the unique quality of his work and illustrative style. Amsel could perfectly evoke period nostalgia (his posters for THE STING and westerns such as McCABE AND MRS. MILLER come to mind), while also producing something timeless and iconic, perfectly befitting both something old and something new. And however different his approach from one assignment to the other, all would bear his instantly recognizable stamp.
Although Amsel illustrated one of the most recognized movie posters of all time (in addition to many other one-sheets), perhaps his greatest exposure was a record breaking run illustrating TV Guide covers in the 1980s. This work for TV Guide marked the last era for illustrated covers for the television magazine, just as the era of traditional illustration would soon end for movie posters.
The McDaniel tribute makes for an interesting read — it was nice to see comparisons between Amsel and American artist J.C. Leyendecker. Although he worked in the same mediums as other illustrators of his time (watercolor, acrylic, airbrush, and color pencil), the "crisp" detailed and flat lighting style Amsel often employed is something that alluded many artists. To see a great example of this type of the detail, look no further than Harrison Ford's face right down to the whiskers in the domestic Raiders of the Lost Ark one-sheet. Amsel's Raiders work is an interesting contrast to the dynamic lighting style of Drew Struzan's recent Indiana Jones and the Kingdom of the Crystal Skull poster.
Buy Raiders of the Lost Ark movie posters at: AllPosters, eBay, Amazon