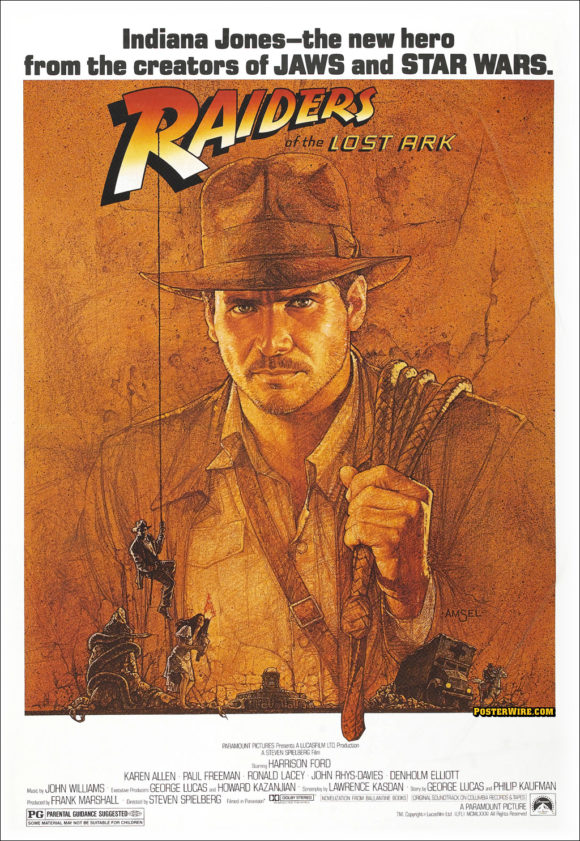 Richard Amsel Illustration
The Indiana Jones film series has had a great history of movie posters, including impressive work by Drew Struzan. The best poster from the series remains the very first release poster for Raiders of the Lost Ark by artist Richard Amsel.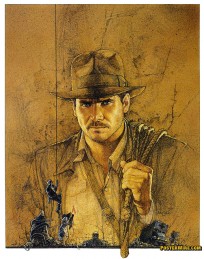 As a student at the Philadelphia College of Art, Richard Amsel won a nationwide Hello Dolly movie poster contest sponsored by 20th Century Fox. He later went on to create artwork for several movie posters and magazines, including over 40 notable illustrated covers for TV Guide.
The Raiders of the Lost Ark movie poster illustration by Richard Amsel employs a signature "crisp" style, a hallmark of that era of film one-sheet illustration. This was achieved by a combination of color pencil with watercolor and acrylic paints. You can see the fine detail pencil work in the Indiana Jones poster right down to Harrison Ford's whiskers. What's impressive about the illustration is how the spot-on likeness of Ford offsets the lesser quality of the scenes depicted on the bottom of the poster.
Buy Raiders of the Lost Ark movie posters at: AllPosters, eBay, Amazon