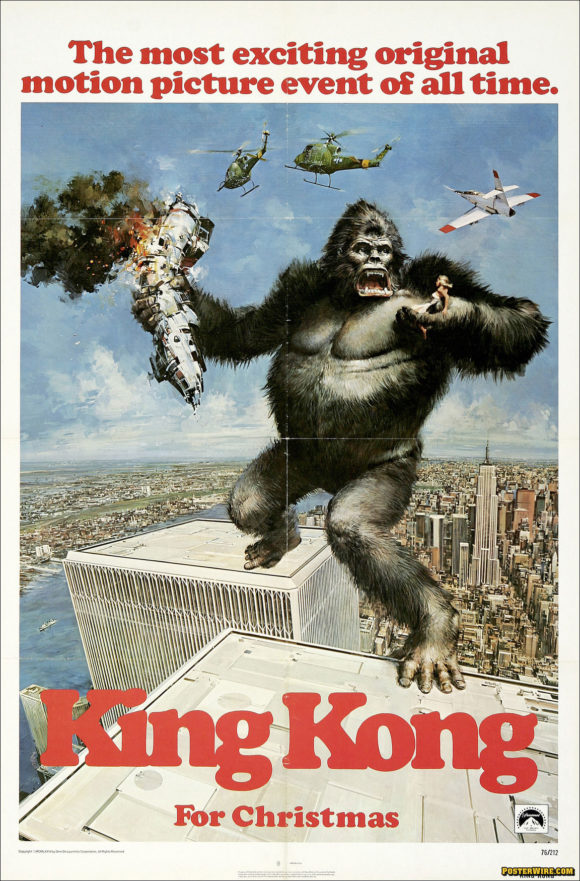 1976 King Kong movie poster
Peter Jackson's King Kong may be getting all of the attention of late, but a lot of 30somethings may remember the 1976 remake of King Kong — or at least it's menacing looking movie poster. Courtesy of infamous producer Dino De Laurentiis, the 1970s Kong film wasn't short on the hype and bombast, even in it's tagline:
The most exciting original motion picture event of all time.
Interesting copyline considering the film is a remake.
Perhaps the most effective part of the film's ad campaign was the 1976 King Kong movie poster, featuring a memorable depiction of the giant ape by illustrator John Berkey. A science fiction illustrator who was best known for his impressionist style paintings of spaceships, Berkey was commissioned to do a King Kong illustration by Paramount Pictures even before filming had begun. An interesting choice for the Kong poster key art — Berkey produced a movie poster far superior to the film itself — the savage looking Kong straddling the two towers of the World Trade Center looks even more arresting than it did in '76. Since this artwork was pre-production, it bears little resemblance to the De Laurentiis remake: Kong looks nothing like he does in the film, both in size and appearance, and the daytime scene depicted on the World Trade Center doesn't reflect the nighttime of the WTC scene in the film. (Would that kind of disparity be tolerated by film fans in modern Hollywood film posters?)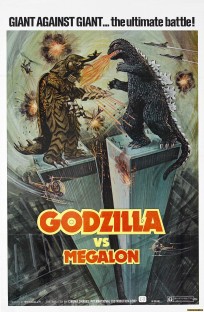 This King Kong poster was also the subject of a "remake" when the U.S. distributor of Godzilla vs. Megalon hoped to ride the wave of King Kong publicity with a Godzilla vs. Megalon movie poster depicting similar artwork of the two Toho monsters battling atop the two World Trade Center towers. (Which doesn't actually happen in the Godzilla film itself.)
Of course, King Kong and Godzilla have battled each other before, but we'll save that for another time.