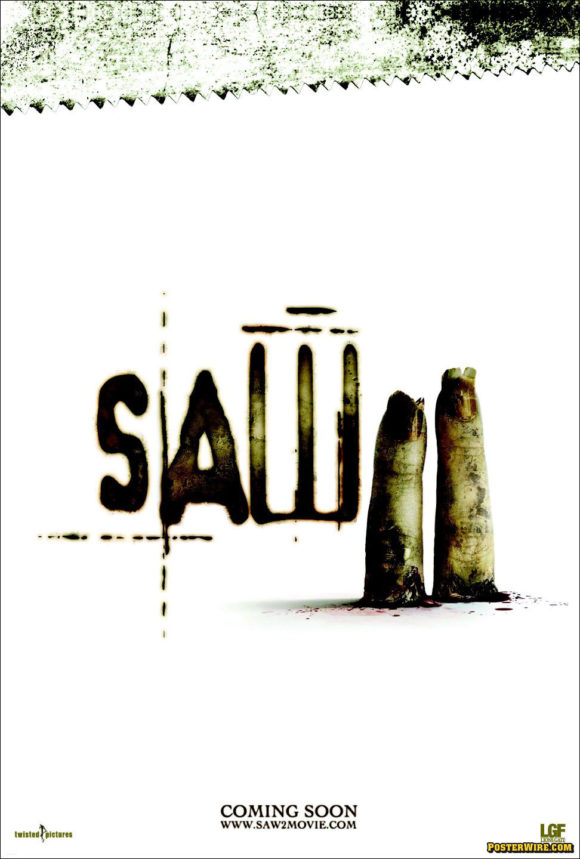 The best movie poster of 2005
Since it's the end of 2005, why not have a 1st Annual Posterwire.com Movie Poster of the Year Award? (Well, we can think of a lot of reasons why we have no business doing things like that, but still…)
It's difficult to define what constitutes "best", or even what makes a "good" movie poster. Is it what's most visually appealing? Strongest conceptually? What helped market the film best? (Which would be a good movie poster's ultimate goal.) If asked what artwork they liked best, the average movie patron would simply pick the poster for their favorite movie of that year. (This explains why so many Titanic movie posters graced the walls of more than a few teenager's bedrooms years ago… Yes, we're still taking shots at Titanic.)

The best looking poster of the year might go to one of the Sin City teasers, such as the Sin City Nancy character movie poster — even if the studio kept re-doing it and tweaking the color scheme. (It's a forgone conclusion that the sex appeal of Jessica Alba is a good marketing device.)
One of the best conceptual movie posters of 2005 was for Inside Deep Throat. It's a difficult challenge to market something so overtly sexual as a documentary about the most famous porn film of all time. And while a big pair of red lips is nothing new, we really like the (ahem) placement and layout of the Inside Deep Throat title treatment. Speaking of concepts, this also reminds us of a different kind of porn, which is represented well in the artwork for Lord of War.
But ultimately, our choice for the best movie poster of the year is the Saw II teaser poster. It fulfills all of the previous qualities we mentioned. The artwork is very well executed (and very creepy looking) — we've always enjoyed the fact the Saw posters used a clean white background (normally a staple of comedy movie posters) to give it's "parts" that much more visual punch. And as far as concept, who doesn't enjoy the dark wit and parody of the two fingers representing the "Two" of the sequel's title? The two fingered sequel poster being another common staple of film key art. (And to take this idea even further, the Saw 2 poster itself has already been parodied.) Finally, if there is no such thing as bad publicity (especially when it's free), then no other poster this year made the news for being banned by the MPAA, which was the case with this Saw 2 one-sheet. The MPAA approved revision of the teaser poster is still effective. We have no idea if the banned artwork was just a bit calculated or not, but the result certainly didn't hurt the film by getting it that much more exposure. (To be fair, it probably didn't generate any additional business for the film, but since the key art is only a tiny part of the overall marketing effort, it's important to note that it meets the criteria of "every little bit helps", especially when trying to generate awareness of a lower budget horror film.)
A well-designed, clever horror poster that generated it's own small controversy and buzz — that sounds like a winner to us.