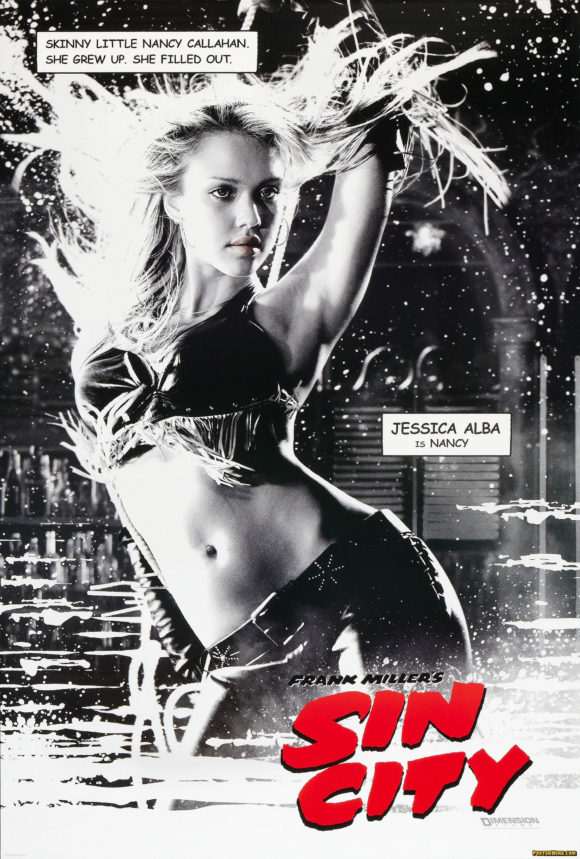 Sin City Character Posters
IGN FilmForce has an interview with the so-called Ladies of Sin City, or more specifically Rosario Dawson, Brittany Murphy and Jessica Alba. The article describes the roster of femme fatales in the Sin City film this way:
The ladies of Sin City, in contrast, are sexy seductresses. They'll keep the men happy, but if you cross them, you probably won't live to tell about it.

Continuing the series of character posters (we last left off with a teaser poster of Jessica Alba), we have Brittany Murphy posing as Sin City waitress Shellie (while her loose-fitting shirt does battle with a wind machine). This advance poster echoes the tinting Robert Rodriguez did with the palette for the film.

Speaking of tinting, the previous version of a Sin City Nancy movie poster was also in black and white, only to be later re-released by the studio as a new Sin City Nancy poster with color tinting. Only blood red lips get the tinting treatment in the poster for the dangerous trio of the girls (Devon Aoki, Rosario Dawson, and Alexis Bledel) from Sin City's Old Town.