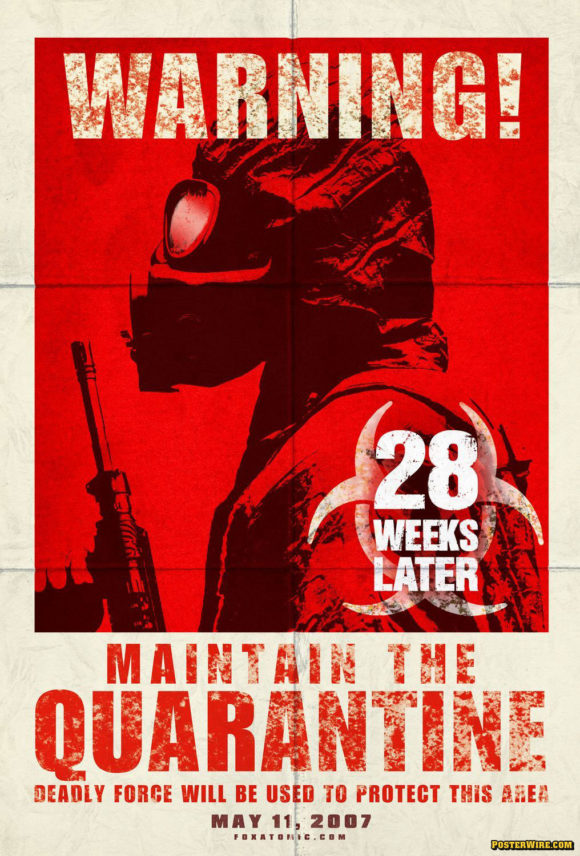 28 Weeks Later movie poster
Entertainment Weekly has a first look at the movie poster for 28 Weeks Later, the sequel to the horror film 28 Days Later. The article is a bit underwhelming, but it does have an interesting quote by Fox Atomic senior VP of print advertising Karen Crawford. Discussing the "concession" of re-using the biohazard title treatment logo from the previous 28 Days Later poster:
I'd like it to not have that logo. But, of course, this is a movie we're advertising.
We can easily imagine a cynical tone in her voice when saying that.
The why-oh-why-must-we-be-shackled-by-this-logo-from-the-past anecdote reminds us of a light bulb joke about designers:
Q: How many graphic designers does it take to change a light bulb?

A: Does it have to be a light bulb?
If you chuckled at that joke then you probably work in a creative field. This light bulb joke also happens to be the ONLY joke about graphic design that we know of. Niche jokes aside, the Fox exec quote seems to explain why the 28 Weeks Later poster tries to hide the biohazard symbol by fading the edges of the symbol behind the logotype. This is an unfortunate choice since the faded red of the logo clashes with the duotone street art style of the rest of the poster's key art. It also doesn't help that fading the color red can sometimes read as pink in color. It looks like the biohazard logo fell victim to death by half-hearted inclusion, which many designers are familiar with.
Buy 28 Weeks Later movie posters at: AllPosters, eBay, Amazon