Aqua Teen Hunger Force movie poster
According to Film Junk, the new Aqua Teen Hunger Force movie poster was created by illustrator Richard Corben.
(Update: Richard Corben did not illustrate this poster. See update below.)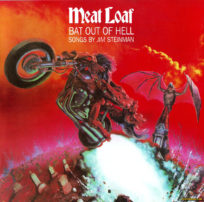 A respected comic book artist and fantasy art illustrator, Corben is best known for his work for Heavy Metal magazine. He also illustrated the artwork for Meat Loaf's Bat Out of Hell album cover.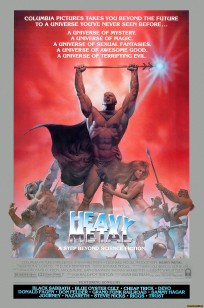 Corben makes would have made for an interesting choice as illustrator for the Aqua Teen Hunger Force poster art. In the late 1970s, Corben created the art for a short story series called "Den" that was published in Heavy Metal magazine. His story was later adapted as one of the segments in the animated Heavy Metal movie. That movie story segment was the basis for a Heavy Metal movie poster, which was also created by, you guessed it, Richard Corben.
The Heavy Metal movie poster artwork features a triumphant pose of muscular hero "Den", towering over a mound of creatures as an attractive female clutches his leg.
The towering hero layout Corben used should be familiar — it is sometimes known as the "King of the Mountain" or the "Conan the Barbarian" pose, since it's origins go all the way back to pulp cover illustrations for Conan the Barbarian paperbacks and other similar magazines. This type of composition is so prevalent (especially in the realm of science fiction and fantasy art) it would be impossible to list every example of this theme. Although many artists (like Corben) work in this realm, the two most associated with this type of work are legendary illustrators Boris Vallejo and Frank Frazetta (both movie poster illustrators in their own right).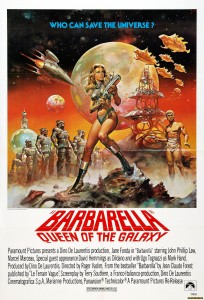 The ATHF movie poster may be the latest to use this look, but it isn't the first movie poster to parody it. The Conan cliché has been parodied in past movie posters by the very artists who created this genre of illustration in the first place. For example, the 1982 Conan the Barbarian movie poster (illustrated by Renato Casaro) was a straight forward depiction of "King Conan". This poster style was literally "lampooned" when Clark Griswald took his place on top of the mountain in the National Lampoon's Vacation movie poster. Chevy Chase returned to the top again in the National Lampoon's European Vacation movie poster. Both of these Vacation posters were illustrated by Boris Vallejo — in this case parodying his own work and the genre he helped create. Other examples of "King of the Mountain" inspired layouts in movie posters: Star Wars (Style A), Barbarella, and Army of Darkness.
In the Aqua Teen Hunger Force movie poster, the ATHF team of Meatwad, Carl Brutananadilewski, Frylock, and Master Shake take their place on the mountain, complete with the required fantasy "babe" clutching Carl's leg. No word as to whether this ATHF ad has caused panic in Boston.
Update: We received an email from Richard Corben's official site saying Corben did NOT create the Aqua Teen Hunger Force movie poster. We later received an email from Boris Vallejo's official site confirming that the Aqua Teen Hunger Force film poster was illustrated by Julie Bell and Boris Vallejo. Glad the confusion has been cleared up.
Buy Aqua Teen Hunger Force movie posters at: AllPosters, eBay, Amazon