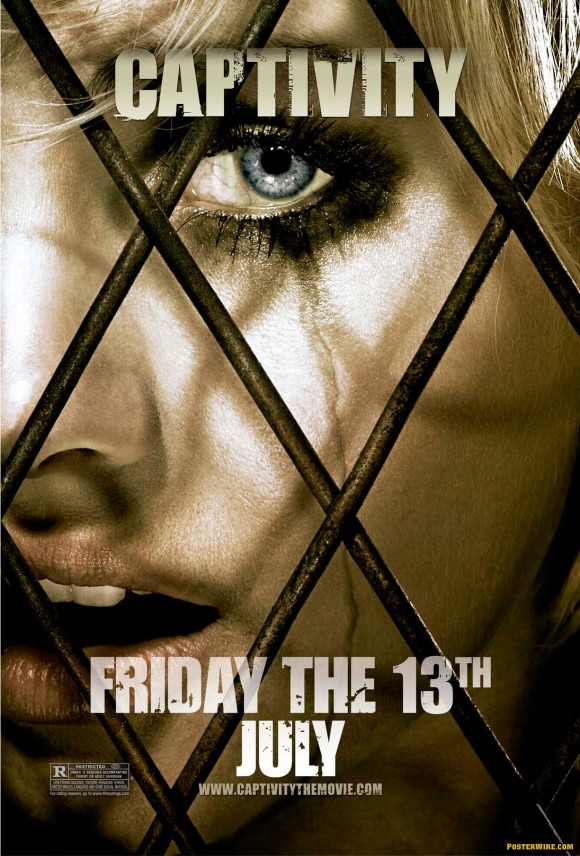 Captivity billboard controversy
By now most of you have probably heard about the controversy surrounding Captivity billboards as part of the film's outdoor ad campaign in Los Angeles and New York. Captivity is a horror (some say "torture porn") film starring Elisha Cuthbert. The billboards (featuring key art designed by Art Machine) depicted four panels with the headlines "Abduction, Confinement, Torture, Termination" along with the appropriate modern horror florescent lighting color scheme and scary visuals:

This film outdoor campaign outraged some residents in the Los Angeles area. In some sort of modern ad speak for "My dog ate my homework", CEO Courtney Solomon of After Dark Films (the studio that produced the film) claimed the wrong files were sent to the printer and all the executives were in Las Vegas attending ShoWest at the time. We have no idea whether this was the case or not, but we don't think the final production poster key art mechanicals sent to the printer were labeled "TOO SCARY. PLS DO NOT USE. FOR YOUR FUN ONLY!".
And if you have wondered how film execs really talk, Solomon went on to muse:
Personally, I wasn't going to go with this campaign. I thought it was OTP (over the top). Nothing like this can ever happen again.
Is this "OTP" quote meant to publicly lay blame elsewhere, like he (the CEO) was some sort of "lone voice of reason in a wilderness of 'oh no, we're producing this sucker whether you liked the comp or not' ad design approval craziness"?
Although the offending outdoor billboards were eventually removed (and replaced by a not-as-OTP "Captivity Was Here" billboard), the proverbial outrage pile-on had already begun.
Speaking of pile ons, one thing that is being held captive is a rating for the film. The MPAA has put a one month hold on the ratings process for Captivity, which puts the May 18th release date in jeopardy. According to MPAA Senior VP of Advertising Marilyn Gordon:
The sanctions in this case are severe because this was an unacceptable and flagrant violation of MPAA rules and procedures. After Dark Films presented their ads for approval, as all companies are required to do if they wish to receive an MPAA rating. However, their ads were summarily rejected for their graphic depiction of a woman's torture and death. Yet After Dark proceeded to post them on billboards anyway, and these ads appeared in some of the most prominent public locations in Los Angeles and New York. It is now up to After Dark Films to restore good faith with the MPAA.
The MPAA is technically a trade group — it was created to "advance the interests of movie studios" (it sues alleged movie file sharers on behalf of the film studios, for example). What most people do not realize is that those "interests" being represented are those of the six major studios: Sony, Disney, Paramount, Universal, Fox, and Warner Bros. Since the smaller studios responsible for Captivity (Lionsgate and the producer of the film, After Dark Films) are not "signatory" agencies of the MPAA (and this sort of ad approval controversy has happened before), it's not surprising the MPAA came down hard on the "little guys" in this case. All studios voluntarily submit films (and ad materials) for review by the MPAA, otherwise they cannot advertise in most outlets or be shown in many North American theaters. It remains to be seen how this will effect the release of Captivity, or if this bit of publicity will help the film gain any useful "OTP" exposure.