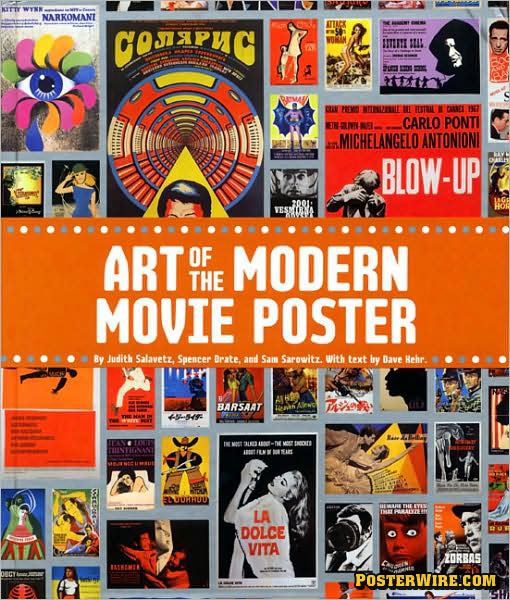 Movie Poster Coffee Table Book
Just in time for the holidays we managed to get our hands on a review copy of the coffee table book Art of the Modern Movie Poster: International Postwar Style and Design. This movie poster design book certainly has to be one of the largest (and one of only a few) books on movie poster design as an art form. Weighing 8 pounds with over 500 pages, the book features 1500 movie poster images from 30 countries over the last 60 years. Also featured are profiles of movie poster artists, including legendary illustrators Saul Bass and Bob Peak. From the book publisher Chronicle Books:
Art of the Modern Movie Poster — Critically authoritative, visually stunning, and physically massive, Art of the Modern Movie Poster is the first and last word on post-WWII film poster design. Showcasing fascinating examples from 15 nations, this collection of more than 1,500 exemplary designs is a must-have for film buffs, design and poster aficionados alike. The posters are organized by country of origin, offering an intriguing glimpse into each region's unique visual sensibility and sometimes unexpected takes on familiar films. Gathered from the renowned collection of the Posteritati Gallery in New York—one of the largest holdings of international film posters in the world—this volume is the definitive survey of both film and popular graphic art in the modern era.
The book was created by designers Judith Salavetz and Spencer Drate, writer Dave Kehr, with images from the movie poster collection of Sam Sarowitz and his Posteritati Gallery in New York. The group previously collaborated on The Independent Movie Poster Book.
The official Chronicle Books blog features a post by designer Suzanne LaGasa about various cover design concepts for the Art of the Modern Movie Poster. You can see their exploration of book jacket designs before they finally settled on a "patchwork grid" cover design.
A gallery show for the book's release is currently on display at the Lincoln Center's Frieda and Roy Furman Gallery in New York City through January 4th, 2009.
Buy Art of the Modern Movie Poster book at: Amazon.com