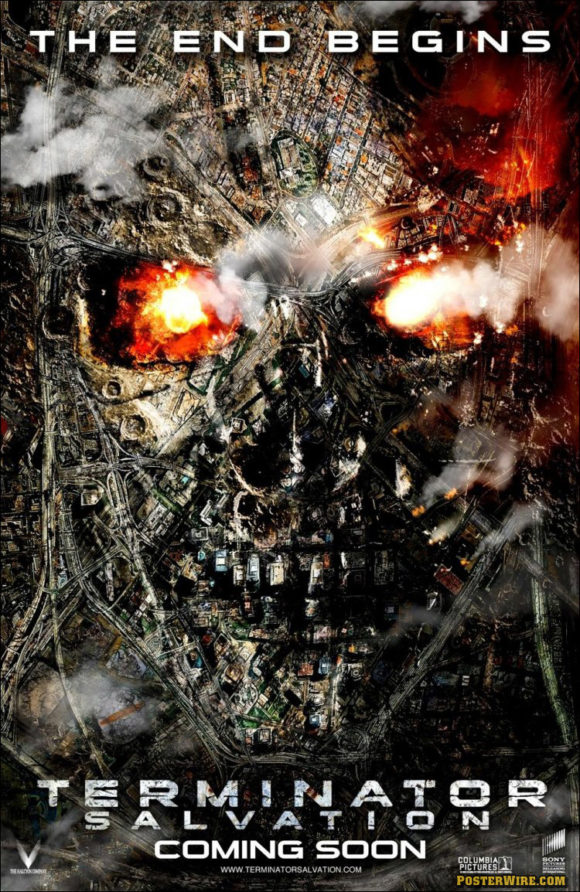 Terminating Print Media
Sony Pictures and Warner Bros. have released an online animated Terminator Salvation movie poster, which the studio is calling a motion poster. From the official synopsis for T4:
In the highly anticipated new installment of The Terminator film franchise, set in post-apocalyptic 2018, Christian Bale stars as John Connor, the man fated to lead the human resistance against Skynet and its army of Terminators. But the future Connor was raised to believe in is altered in part by the appearance of Marcus Wright (Sam Worthington), a stranger whose last memory is of being on death row. Connor must decide whether Marcus has been sent from the future, or rescued from the past. As Skynet prepares its final onslaught, Connor and Marcus both embark on an odyssey that takes them into the heart of Skynet's operations, where they uncover the terrible secret behind the possible annihilation of mankind.
The animated Terminator poster features a bombed cityscape transforming into the ubiquitous T-800 style endoskeleton skull. The Flash animation (which is essentially a stand-alone version of the animation created for the official Terminator Salvation website) was also translated into print form as a Terminator Salvation teaser poster. The Terminator 4 ad campaign was created by the film advertising agency Art Machine.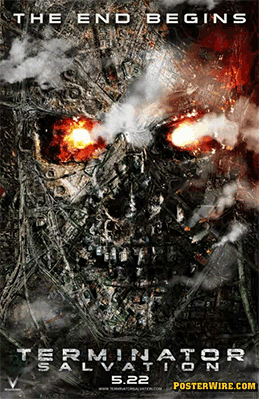 Speaking of the battle for the future, this animated Terminator poster represents another salvo in the turf war between new media and traditional print (aka dead tree media) advertising. It is not hard to figure out which side of the business is shrinking. In this case there actually is a Judgement Day in the future, and it does not look good for traditional printed newspapers and magazines. That bleak future for the publishing industry will also affect movie print advertising, since print ad buys used to represent a significant portion of film ad spending. The decline of print media means those outlets will become more dependent on advertising as their subscriptions continue to decline. But ask yourself, when was the last time you opened up a Thursday edition of your local newspaper to look up movie theater showtimes for that Friday? That entertainment section of the newspaper full of movie ads used to represent the highest exposure for a film campaign's key art, but that is becoming a thing of the past. How long will movie studios pay more money to reach a shrinking audience?
Beyond print media advertising, the delivery of film key art will continue to evolve at your local cineplex. Movie theater lobbies are already being filled with digital signage delivering movie ads, digital content and other movie signage advertising. Even printed 3D movie posters are advancing beyond the traditional paper one-sheet displayed in an theatre lobby movie poster lightbox. It is not hard to imagine this animated Terminator Salvation poster appearing in a digital movie poster case at a theater near you.
Buy Terminator Salvation movie posters at: AllPosters, eBay, Amazon