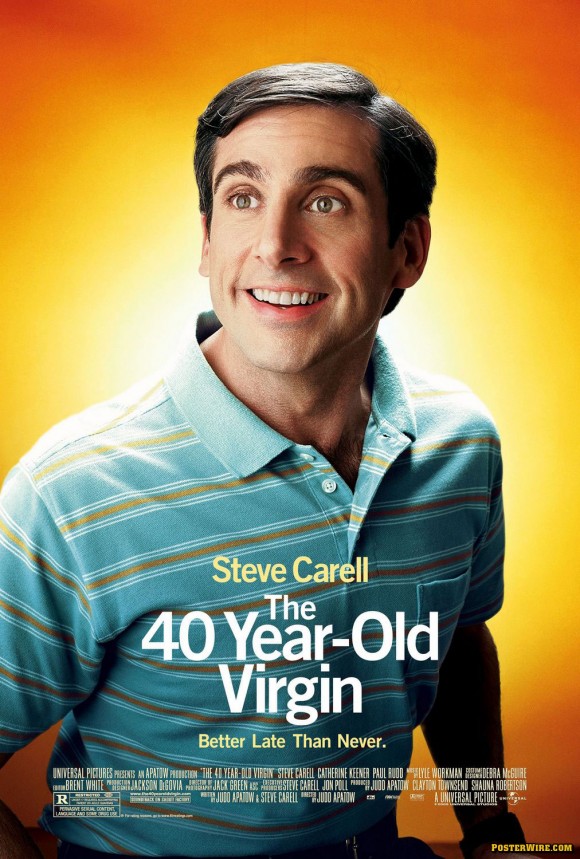 Shooting a 40-Year-Old Virgin
Steve Carell is The 40-Year-Old Virgin. As the title suggests… Well, the title pretty much tells you everything you need to know about the film's plot. More importantly, let's discuss the funny portrait photograph used in the The 40-Year-Old Virgin movie poster.
Reader Martin S. writes:
Maybe you can explain why the poster linked above feels so different from other posters, it's like so vacant, with a sort of Devo-ish image. I don't know, I think it's incredibly attention-getting.
The look and effectiveness of The 40-Year-Old Virgin poster can be summed up in one simple phrase:
Perhaps you remember it from your childhood. Maybe it was offered at your local mall. Regardless of when/where/how, the trappings of the cheesey family portrait remain the same: the innocuous muslin backgrounds, posing on the little round swivel chair, the photo subject looking away to the left (or right) of camera, and of course, the forced smile. As with all things schmultzy, it's only a matter of time until the "Sears Portrait Studio" look is re-appropriated.
The "ironic" family portrait photograph became popular among rock and alternative bands, a famous example being when the Red Hot Chili Peppers visited their local portrait studio for band photos. But the trend wasn't limited to music: the creators of South Park (Matt Stone and Trey Parker) have also made a portrait studio visit.
For The 40-Year-Old Virgin poster, posing the subject via "Stepford"-ized portrait photography, the goofy expression, not to mention the photo's slightly skewed bright color palette, gives actor Steve Carell just enough punch to make this a really memorable image — which is saying a lot for a movie poster that relies on a simple image of the film's star. (The "Better Late Than Never." tagline helps too.)
Buy The 40-Year-Old Virgin movie posters at: AllPosters, eBay, Amazon