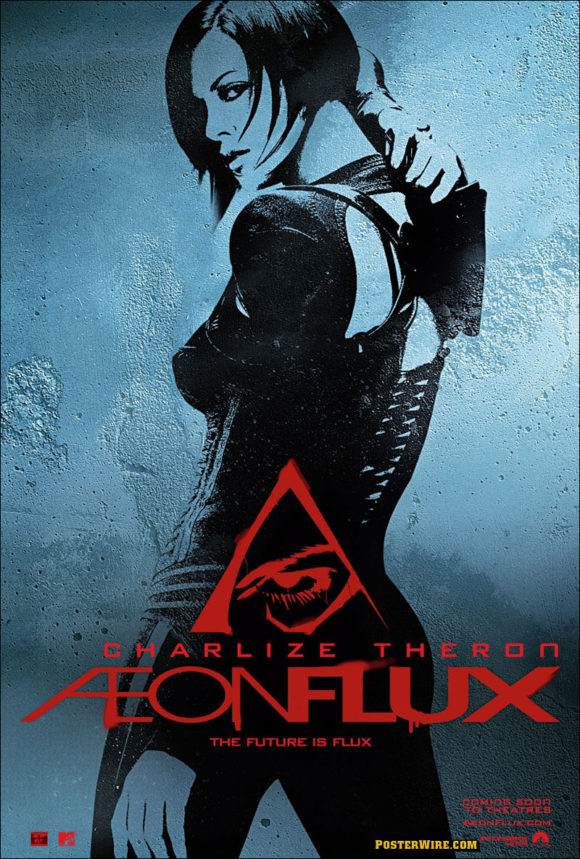 Charlize Theron as Aeon Flux
Originally a stylized cartoon on MTV's 1991 ground-breaking animated show Liquid Television, Aeon Flux was a series of animated shorts following a sexy female assassin. It's surreal plots and gritty futuristic style made it a fan favorite.
After many years and false starts, the property is finally coming to the big screen. The live-action adaptation of Aeon Flux stars Charlize Theron as the futuristic secret agent sent to assassinate a government leader on behalf of an underground movement. The filmmakers and star Theron spoke about the project at this year's Comic-Con convention.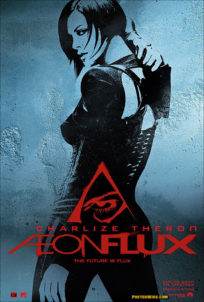 To advertise the film at their appearance, Paramount Pictures previewed two special Aeon Flux one-sheets created just for the convention. (Whether these two posters will be used in later versions of the film's key art remains to be seen.) Using the blue wall from the Aeon Flux teaser poster, the two Aeon Flux Comic-Con one-sheets suggest a graphic novel/comic look with a high contrast image treatment. Better still, the posters manage to make the star's controversial outfit look interesting.
Actress Charlize Theron forced filmmakers to change her Aeon Flux movie costume from it's skimpy animated origins to be less revealing. According to Theron:
"No matter how sexual this character is and how comfortable she is with her sexuality, obviously we knew we couldn't go as far with the outfits that Peter [Chung] had designed for her. Certain things must be hidden."
As to be expected, fans have been skeptical of the results of the film's costume changes. Filmmakers have always had to strike a difficult balance between practical on-screen costuming versus comic book couture when adapting to live-action. What works in animation or comics may not work on screen. Aeon Flux creator Peter Chung on animated Aeon's sexy costume:
"I'm interested in exploiting the entire human body for expressive purposes, instead of what you usually see in cartoons: just the hands and facial expressions. When I first designed Aeon Flux, I wondered whether I should make her less sexy looking – give here a costume that was less revealing. But it seems silly to be working in the animation medium and not be a little unrealistic. The fact that she's scantily clad helps to emphasize the expressive qualities of the human body. I would have drawn her nude if I could get away with it."
Speaking of comic conventions and costumes, some fans feel they are up to the challenge of recreating the look of their favorite characters. The popularity of amateur versions of character costumes has skyrocketed in the past few years, especially in connection to the growth of anime and video games. The practice even has it's own term — cosplay ("costume" and "play"). Aeon Flux is no stranger to the world of cosplay, with several fan costumes trying to replicate the animated character's distinctive look.