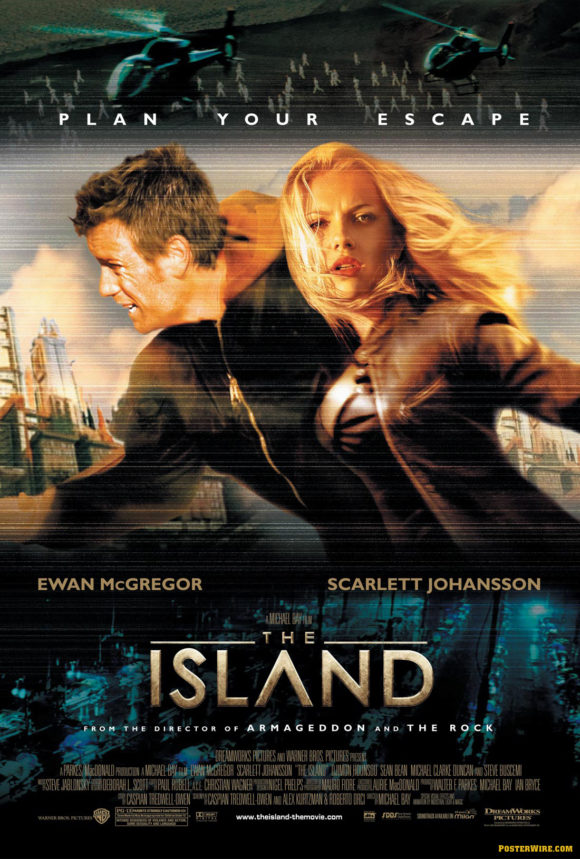 When in doubt, blame marketing
Let the finger pointing begin. In an interview with the LA Times about the release of his film The Island, director Michael Bay laid some blame of the film's box office disappointment on the film's marketing, including The Island movie poster:
Bay bemoaned that the movie had low awareness. Even before it opened, he had sharp words for the marketing campaign, complaining in a Times interview that the effort wasn't generating interest and that a poster made costar Scarlett Johansson look like "a porn star."
So much for the commentary on the porn star look of Scarlett Johansson in a piece of key art. Considering Bay's directing style and reputation, there seems a bit of hypocrisy there. Scarlett Johannsson seems to agree as she nearly had a wreck while driving in when she saw herself on The Island billboards:
"I was driving through Los Angeles and I look up and see the biggest photo of me I have ever seen in my life on a massive ad space. I screamed and slammed on the brakes. I couldn't believe it. It's very strange to see my cleavage the size of a brontosaurus. My breasts were huge. I had long hair and my goodness, I couldn't get past the cleavage."
As the gossip site Defamer.com points out, one of the seven stages of box office grief is to blame the marketing department at the studio. It's a very old ploy, that sometimes has no basis in reality, but still popular nonetheless.
In 1995, the executives at Universal fired the head of studio marketing as a response to Kevin Costner's mega-flop Waterworld. Nevermind that the marketing chief wasn't solely responsible for the advertising campaign of the Waterworld film, as he was newly installed in the job after that film's campaign had already been underway. And it's the job of studio publicity (not advertising) to manage the news/media campaign associated with the film, for better or worse. In the case of Waterworld, the negative news stories and coverage of the film's infamous production problems helped "drown" chances of box office success. (For the record, Waterworld eventually made a small profit through foreign sales and other markets.)
Good film advertising essentially works in two ways: to help generate buzz or to help minimize damage. For example, when Sony executives got their first look at the 1998 soon-to-be stinker Godzilla, the first thing they did was immediately increase the number of ad buys (TV commercials) before the film's opening. This was already on top of the film's massive ad campaign. They threw more money at the problem — they "bought their opening weekend".
But with millions of dollars devoted solely to a film's ad campaign, a movie's marketing plan begins to look more like a catastrophic disaster insurance policy than anything else. Does a Hollywood film live and die based on it's marketing? Returning to Bay's bashing his film's one-sheet (which he likely had approval over), what 27″x41″ piece of artwork can help carry that kind of burden? Has anyone ever seen a film because of, or in spite of, the look of a movie poster?