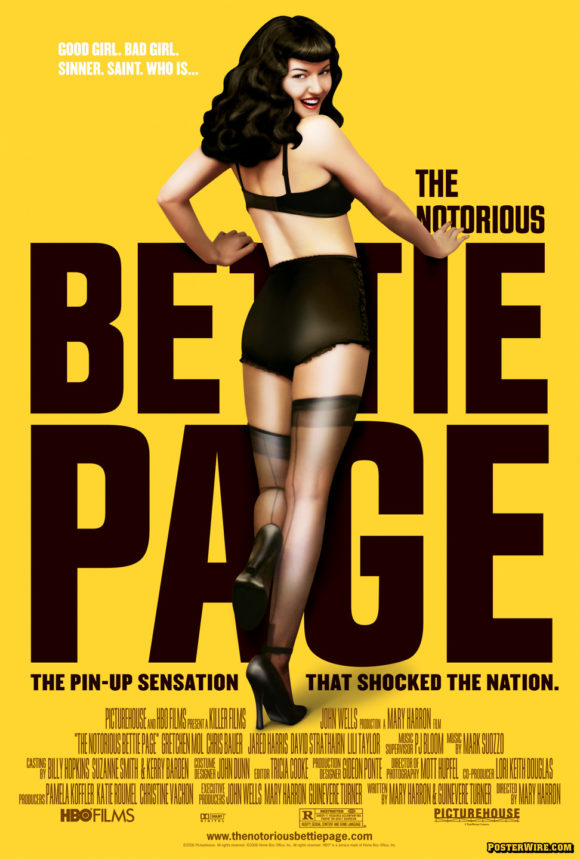 The Notorious Bettie Page movie poster
Who is Bettie Page?
Bettie Page is the most photographed model of all-time.
How is this "original supermodel" claim possible? It is a bit dubious, but the statement is derived from the prolific career of Bettie Page as the premiere pin-up model (and Playboy Playmate) in the 1950s. (It also helps to understand a bit about the history of mail-order pin-up photographs, "camera clubs", and men's magazines from that time period.) "All-time" claims aside, the impact of Bettie Page is too broad a topic to discuss in a weblog about movie posters, but needless to say: even if you have never heard of her before, you are probably aware of her influence on beauty, fashion, modeling, sex, and pop culture — even if you didn't realize it.
Her life story is finally coming to the big screen via the dark haired bangs of actress Gretchen Mol in the movie The Notorious Bettie Page. The film covers the modeling career of Bettie Page, including the controversies surrounding her sometimes risque fetish photographs.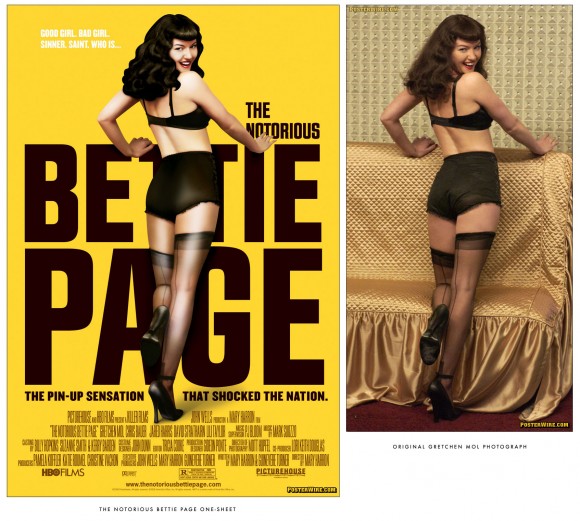 In The Notorious Bettie Page movie poster, we see Gretchen Mol as Bettie Page, leaning against the oversized typography of the film title treatment against a bright yellow-orange background. At least, it used to be an image of Gretchen Mol.

When we compare the poster to the original photograph of the actress, we can see this Bettie Page has had quite a bit of retouching. While the real Bettie Page never needed any retouching (nor does Gretchen Mol as Bettie Page for that matter), a fact of modern life is everyone (and we mean everyone) in advertising is retouched in one way or another. You can bet that unless the image is an editorial/news photograph, it has been altered in some way. (Sadly, sometimes news organizations do alter photographs.) In this case, the poster image of actress Mol as Page has literally been painted into existence. This happens quite often in film poster one-sheets. When working with varying levels of quality of source material — a dark and blurry unit photograph for example — the retoucher, working on the final "finishing" stage of the key art, can be called upon to create all kinds of things in Adobe Photoshop. Looking at the original Gretchen Mol photograph, we can speculate that the photo was a bit out of focus and grainy, requiring extensive "painting" in the final stages… Or maybe the account executive in charge of that campaign was simply over zealous in having the composition retouched. Or perhaps a mixture of both?
Buy The Notorious Bettie Page movie posters at: AllPosters, eBay, Amazon