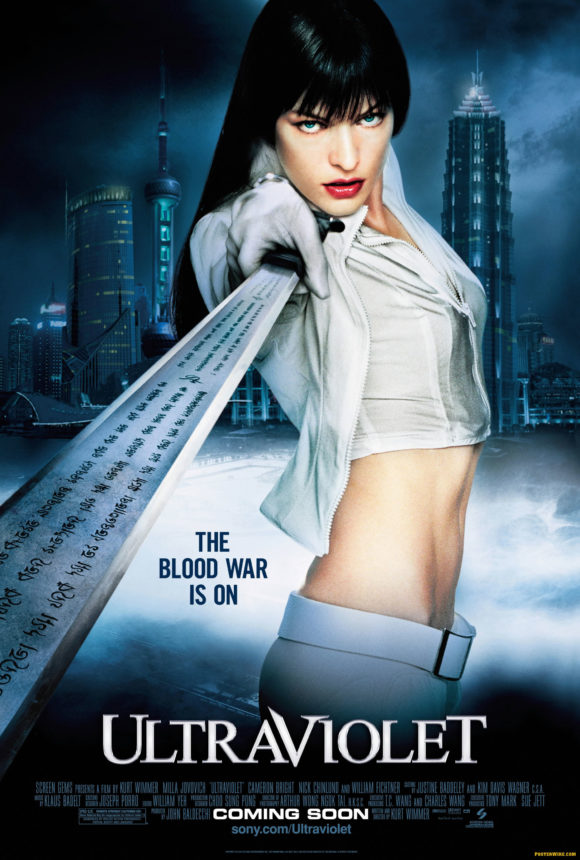 UltraViolet movie poster
Speaking of Bettie Page, model turned actress Milla Jovovich sports a familiar black hair with bangs hairstyle in her new movie UltraViolet. Sony offers this plot synopsis:
Set in the late 21st century, a subculture of humans called Hemophages has emerged who have been genetically modified, giving them enhanced speed, incredible stamina and acute intelligence. To the government's dismay, more and more of the population are being transformed, and they have set out to rid the world of this new subculture that they deem menaces to society.
In the Ultra Violet movie poster, Milla Jovovich as "Violet" is pointing a very long sword (and thin stomach) towards the viewer. This key art illustrates a "sword" sub genre of the ever popular "Girls with Guns" action heroine movie theme. The UltraViolet movie trailer promises plenty of firepower in addition to sword fighting, as the film will be offering another round of ridiculous "Gun Kata" director Kurt Wimmer created for his previous science fiction film Equilibrium. Fortunately for the filmmakers, Milla is no stranger to firepower or science fiction.