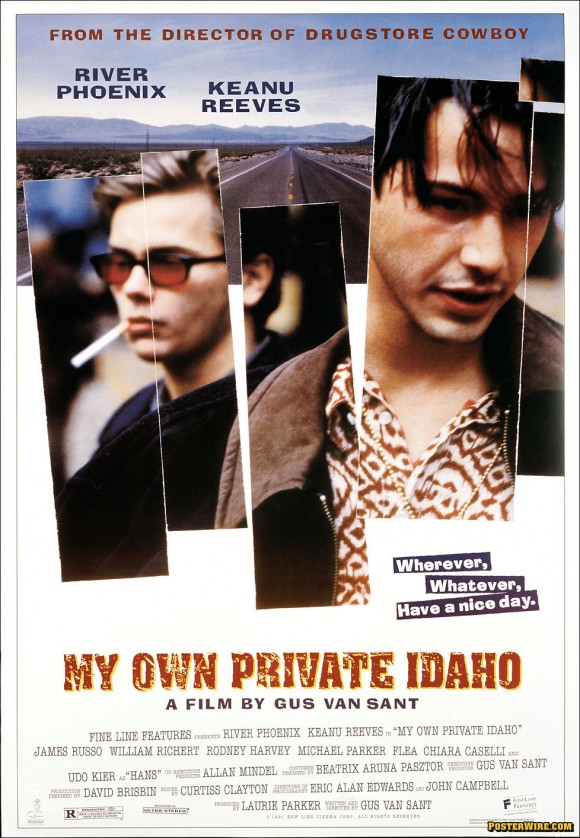 Interview with the Movie Poster Designer
Looking through the book The Independent Movie Poster Book, which we discussed previously, we came across one of our favorite posters for the 1991 independent film My Own Private Idaho.
Directed by Gus Van Sant, the unusual film stars River Phoenix and Keanu Reeves as two male hustlers in Portland, Oregon. In a way, the film's poster offers a snapshot of the "golden age of indies" — the independent films of the 1990s. With it's torn and blurry photographs of the two stars, the poster's imagery represented something outside the Hollywood mainstream. (And when is the last time you saw someone being depicted smoking a cigarette on a mainstream Hollywood film one-sheet?)
For movie poster art director Rigel Morrison, the film My Own Private Idaho represented a chance to create a piece of memorable key art. "It was nice working on such a hip movie at that time", says designer Morrison. A movie poster art director for over 15 years, Morrison continues film ad design work, most recently on key art for the upcoming Aeon Flux.
"For the design of the My Own Private Idaho poster, we were just trying to think outside the box. What started out as a lark for coming up with ideas became sort of an improvisational moment — I took unit photography of the actors and actually ripped them into pieces. This was back in 1991, and I was doing it all by hand, before everything was done in Photoshop as they are now. It seems like a common thing now [ripped edges], but back then it worked well for the film's look."
That particular movie poster design must have also pleased Fineline, as it only took the film studio a few months (quick by film marketing standards) to take Morrison's first round movie poster concept to a final approved My Own Private Idaho one-sheet.
"I'm happy with how the poster turned out. It's gotten some nice feedback over the years."
Buy My Own Private Idaho movie posters at: AllPosters, eBay, Amazon