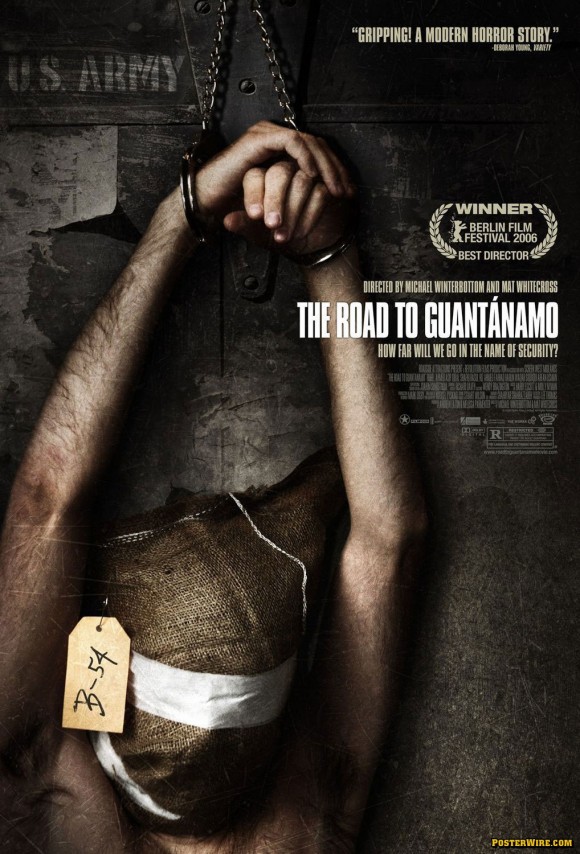 The Road to Guantanamo banned movie poster
The Washington Post reports that The Road to Guantanamo movie poster (for the new documentary film about the controversial Guantanamo Bay prison) has been rejected by the MPAA:
The image that ran afoul of the MPAA is tame by the standards set by the amateur photographers of Abu Ghraib. It shows a man hanging by his handcuffed wrists, with a burlap sack over his head and a blindfold tied around the hood. It appeared in advertisements for the new film "The Road to Guantanamo," a documentary with some reenacted scenes, that follows the fate of three British men imprisoned at Guantanamo for more than two years before being released with no charges ever filed against them.
What's with all the banned film advertising lately? As we have mentioned before, the MPAA approves all print advertising material related to any film that carries an MPAA issued rating. Like most forms of regulation and censorship, the guidelines the MPAA follows are not always clear, but big no-nos for one-sheets include "depictions of violence, blood, people in jeopardy, drugs, nudity, profanity, people in frightening situations, disturbing or frightening scenes." We're pretty sure that the actual Gitmo doesn't follow those same guidelines, however.
Buy The Road to Guantanamo movie posters at: AllPosters, eBay, Amazon