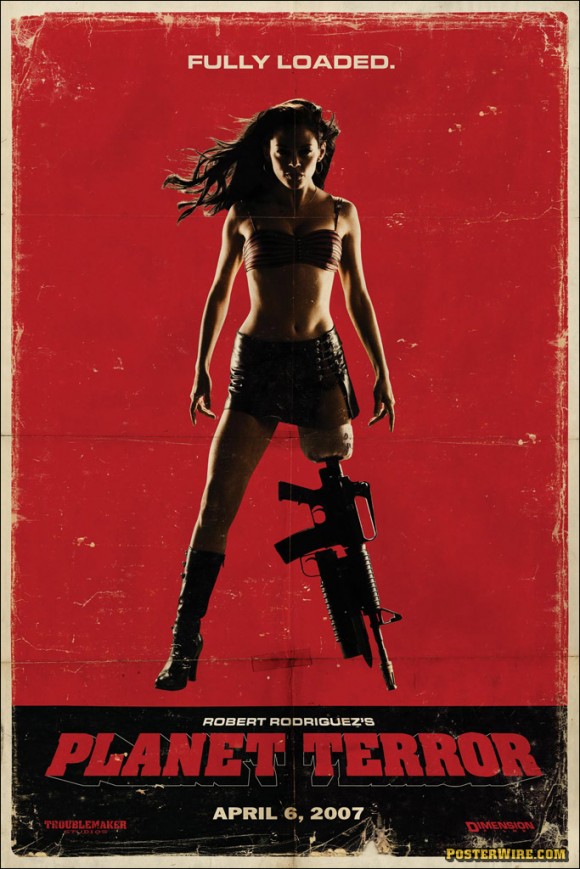 Planet Terror and Death Proof double feature
The official site for Troublemaker Studios — the production company of director Robert Rodriguez — has released a set of what they are calling "limited-edition" Grindhouse teaser posters. Gindhouse is the double-bill feature ode to exploitation films from directors Robert Rodreqiuz and Quetin Tarantino, with each creating their own movie as part of the double feature. Rodriguez is directing Planet Terror and Tarintino helms Death Proof.
Released as exclusive posters at this year's Comic Con, we are guessing "limited-edition" means "not approved by the MPAA and will not be displayed in theatres". Since there is no MPAA rating on the posters, perhaps the studio isn't submitting these as theatrical one-sheets to the MPAA's Advertising Administration. (We have no idea if any of these are destined for your local theater lobby — would the MPAA have a problem with a poster of actress Rose McGowan's amputated leg replaced with an assault rifle?)
In the most recent issue of Entertainment Weekly, director Rodriguez "dissects" the three Grind House teaser posters:

THE VEHICLE
"It's a slasher movie with a car instead of a knife," says Rodriguez of Tarantino's Death Proof, which stars Kurt Russell as a psychotic stuntman. "We did that poster as a silk screen. We wanted to imply an alternate film universe."

THE GUN
In Rodriguez's zombie-esque feature Planet Terror, Rose McGowan's go-go dancer-turned-amputee sports a unique fake limb. The poster's aged look, Rodriguez says, was achieved by the high-tech means of "dragging it around a parking lot."

THE NEEDLE
The director is tight-lipped about why actress Marley Shelton is holding a hypodermic needle in another Terror poster. But he's more verbose on the subject of Grindhouse sequels: "Yeah, there may be a couple. One might be kung fu. One sexploitation. They're a blast to make!"
The term grindhouse refers to the exploitation genre of films and movie theaters that showed those types of films in the 1970s. Grindhouse has been described as "inner-city theaters in disrepair since their glory days as movie palaces in the '30s and '40s. Known for 'grinding out' non stop, triple-bill programs of B-movies. By the late '60s and into the '70s they specialized in movies with sex, violence and other taboo subject matter." This grindhouse cinema has long been an influence for director Tarantino.
The Grindhouse teaser posters and their artwork have embraced all the trappings and style of vintage 70s exploitation posters, including the previously mentioned screenprinted look, distressed edges, poster folds (which seem to be popular recently), and the colorful sensationalism of exploitation movie poster art. We especially love the screenprinted Death Proof movie poster, which replicates the cheaply produced screenprinted posters that were used by some theatres and drive-ins, complete with a blank space at the top of the poster that allowed the local movie theater owner to print their own local theater name, address, showtimes, etc.