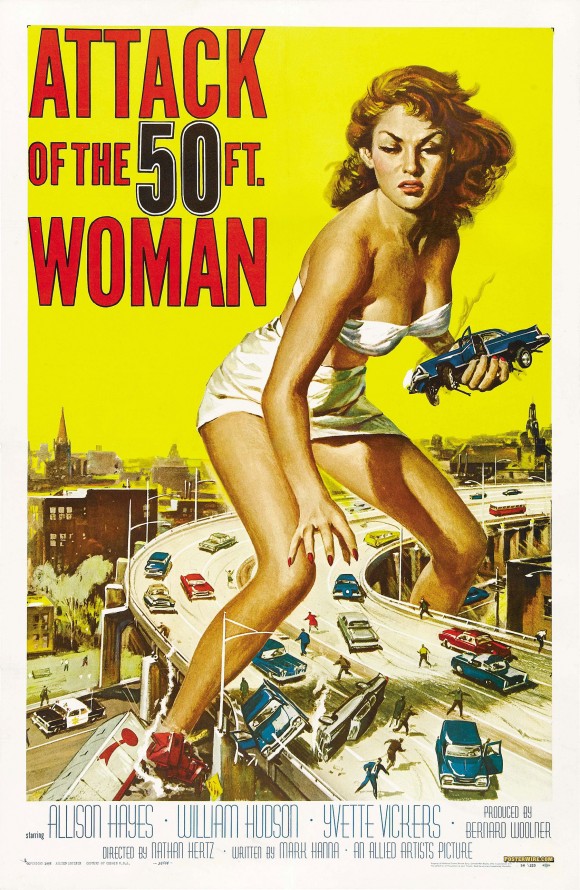 The most famous B-movie poster of all time may be the poster one-sheet for the film Attack of the 50ft. Woman. The 1958 B-movie is about a rich housewife increased to gigantic size by space aliens. The film tagline:
See a female colossus… her mountainous torso, skyscraper limbs, giant desires!
The super-sized woman then decides to inflict havoc to those who have wronged her. Despite being a camp science fiction classic, far more people have seen the film's iconic poster than have actually seen the camp film itself.
The Attack of the 50ft. Woman movie poster was illustrated by Reynold Brown. Brown illustrated many popular film posters in the 1950s through the 1970s, including Creature from the Black Lagoon and Ben-Hur. His Attack of the 50ft. Woman illustrated movie poster even makes appearances in other films, including on the wall of the club Jack Rabbit Slims in the film Pulp Fiction. It's not hard to see why the Attack of the 50ft. Woman movie poster remains popular to this day — the stylized brush strokes and image of a giant woman smashing cars on a highway overpass is hard to ignore.
Buy Attack of the 50ft Woman movie posters at: AllPosters, eBay, Amazon