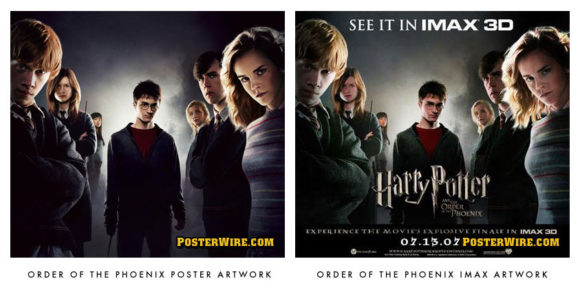 Harry Potter and the Order of the Phoenix movie poster
Warner Bros. has released the U.S. domestic Harry Potter and the Order of the Phoenix movie poster. The poster features "Dumbledore's Army" flanking an older Harry Potter. The movie covers the fifth year at the Hogwarts school, with Harry and his classmates doing battle against evil Lord Voldemort.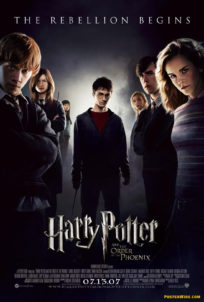 The film poster itself is a bit understated (and far removed from the whimsy and the teen angst of past Harry Potter movie posters), and is using a variation of the ever popular "Flying V" cast line-up formation made popular by Miramax.
Harry Potter and the Order of the Phoenix will also be showing in IMAX theaters. Apparently Harry Potter and the Order of the Phoenix: An IMAX 3D Experience will feature a 20 minute enhanced 3D finale. Speaking of 3D "enhancements", star Emma Watson's chest appears a bit larger in Harry Potter IMAX ads when compared to the Order of the Phoenix poster, even though they are both based around the same artwork.
Although Hollywood (and media in general) has a long history of "augmentation via Photoshop" in advertising, this instance is less obvious than other examples. But it is hard to resist pointing out Hermione Granger's breast growth spurt in this case when the artwork is for a 3D movie from a theater chain with the motto "Think Big". (This also invokes memories of a Saturday Night Live Harry Potter skit starring Lindsay Lohan from a few years ago.)
Why is there a difference between the two pieces of Potter key art? Since the IMAX version of the poster art appeared online before the final Harry Potter one-sheet, we can only speculate that Warner Bros. gave the IMAX ad group an earlier "comp" version of the artwork prior to being finalized for the studio's own press run. There are other subtle differences between the two: the domestic one-sheet version of Herminoe Granger features a less flowing hair style, probably because her hair in the IMAX version blocks more of actor Matt Lewis (as Neville Longbottom) standing behind Emma Watson.