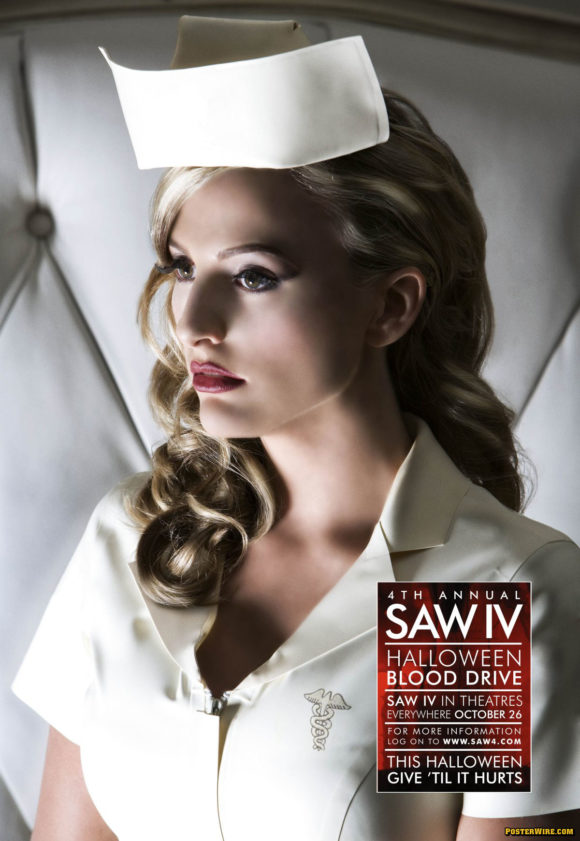 Tim Palen and the Red Cross
During the last annual Saw III Halloween Blood Drive, the American Red Cross directed the film studio Lionsgate to remove Red Cross logos from the uniforms of the infamous Saw nurses in that year's Saw III Blood Drive posters. At the time, the red cross logo revision made it very clear that the American Red Cross was not affiliated with the annual Halloween holiday blood drives organized by the studio to help promote the Saw film series.
What a difference a year makes.
For the upcoming release of Saw IV and the annual 2007 Saw IV Halloween Blood Drive, not only has Lionsgate returned with a new Saw Nurse Blood Drive poster, the motion picture studio managed to officially partner with the American Red Cross for this year's charity blood donation drive event for the first time.
The SAW "Give Til It Hurts" blood drive has become a key element of the SAW franchise, as much a part of the horror hit's annual rituals as its Halloween premiere date. Since the first SAW blood drive in 2004, SAW filmgoers have donated nearly 38,000 pints of blood to help save as many as 112,500 lives. Collection totals have doubled year after year: during the 2004 inaugural drive, 4,200 pints were collected, in 2005, 10,000 pints were collected, and in 2006, 23,493 pints were collected, resulting in tens of thousands of lifesaving blood transfusions.
Ironically enough, within days of this partnership announcement, the Red Cross in turn found themselves being sued for misuse of the Red Cross logo by the company Johnson & Johnson, which alleges the charity is licensing the red cross logo for "commercial purposes", which they believe violates their trademark. The Red Cross does not agree. Confused yet?
The new Saw Halloween Blood Drive posters (as does all the previous blood drive posters) features photography by the co-president of Lionsgate theatrical marketing, Tim Palen. Palen has released a new book featuring his film advertising photography, including his work for the aforementioned Saw poster series. His book is appropriately titled Guts:
Award-winning fine art photographer Tim Palen serves up a visionary collection of images in his debut book collection GUTS, culled from his work in and around the marketing of six cutting-edge horror films. The 110-page book includes movie and event posters, production stills, outtakes, and location photos. The cover image — a photograph of red, glistening meat — telegraphs both the nature and sensibility of the work inside: sensual, sophisticated and veined with a drolly macabre sense of humor.
Guts: The Art of Marketing Horror Films features Palen's image work for Lionsgate horror film releases including Saw and Hostel, along with editorial photography, such as a photo of Hostel director Eli Roth titled "Eli Roth Has the Biggest Dick in Hollywood" (Not Safe For Work).