Movie Poster Colors of Top Grossing Movies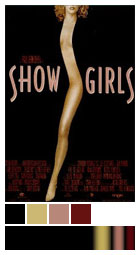 One of our favorite weblogs, Speak Up, has an article analyzing The Color of Top Grossing Movies in movie posters. They did this by pulling a color scheme of movie posters representing the top 5 grossing movies in each MPAA rating category. This came about because author Armin Vit wondered if NC-17 rated film posters would be "dark and provocative" as a visual baseline.
Speak Up's experiment highlights a few basics in one-sheet color schemes: Comedies feature brighter colors (and rely heavily on white backgrounds), whereas other film genres skew darker (and more likely to use a black background). You could further categorize film types by color: Science fiction films tend to use cool tones (blues, greens). Action films use warm tones (reds, yellows). Horror films use earth tones (oranges, browns). Animated films use the most varied color combinations, reflecting the colors of the animation itself. Of course, there are countless exceptions to these genre by color examples.