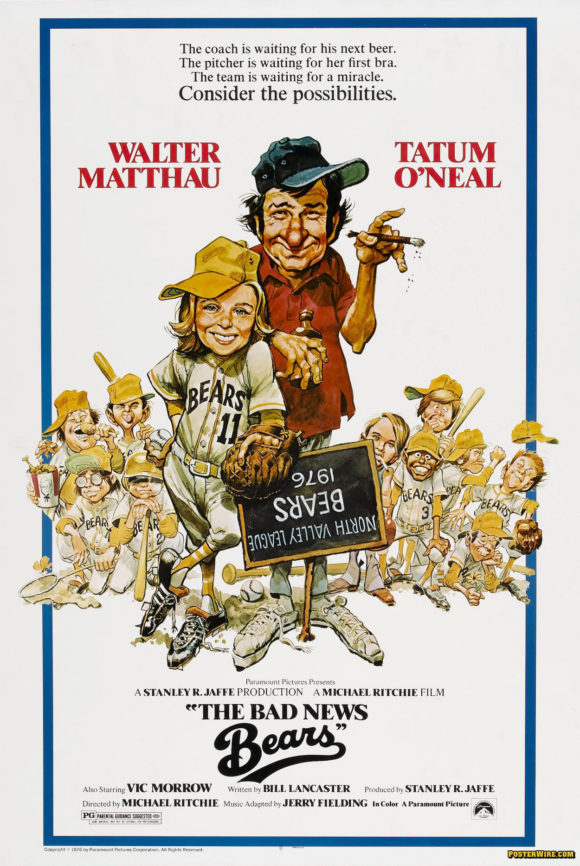 Remaking the Bears
For the upcoming 2005 remake of The Bad News Bears, film studio Paramount went with an interesting illustration of Billy Bob Thornton and the rest of the Bears Little League baseball team for the new Bad News Bears poster. We say interesting, because:
A. Film studios rarely use traditional illustrations as a one-sheet anymore.
B. The new Bad News Bears movie poster is in itself a remake of the original 1976 Bad News Bears one-sheet.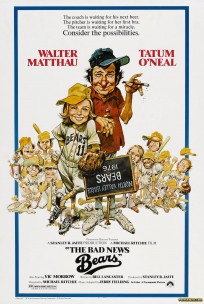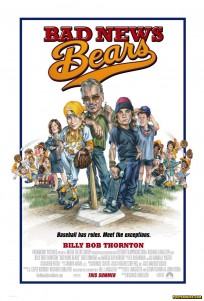 The original 1976 The Bad News Bears movie poster was illustrated by Jack Davis. Davix is a well-known illustrator and cartoonist, who influenced generations (beginning in the 1950s) with his work in a number of varied outlets, including Mad Magazine, Tales From The Crypt horror comic books, and even Time magazine. His distinct and humorous style of cartooning is easily one of the most copied styles of cartoon illustration, even to this day.
Davis had a long career illustrating movie posters, which brings us to his cartoon style movie poster for the Walter Matthau and Tatum O'Neal comedy. Davis did a great job in his caricatures of the cast, especially of Matthau. The one-sheet's cartoon style fit the tone of the film perfectly.
Arist Phil Roberts illustrated The Bad News Bears movie poster remake. We can only wonder what approval process gauntlet this artwork went through, so it's hard to knock any occasion when a studio uses the near-extinct animal known as movie poster illustration. It is an interesting choice in that the new cartoon style poster is patterned so closely (at least in layout and concept) after the original Davis art.
Buy The Bad News Bears movie posters at: AllPosters, eBay, Amazon