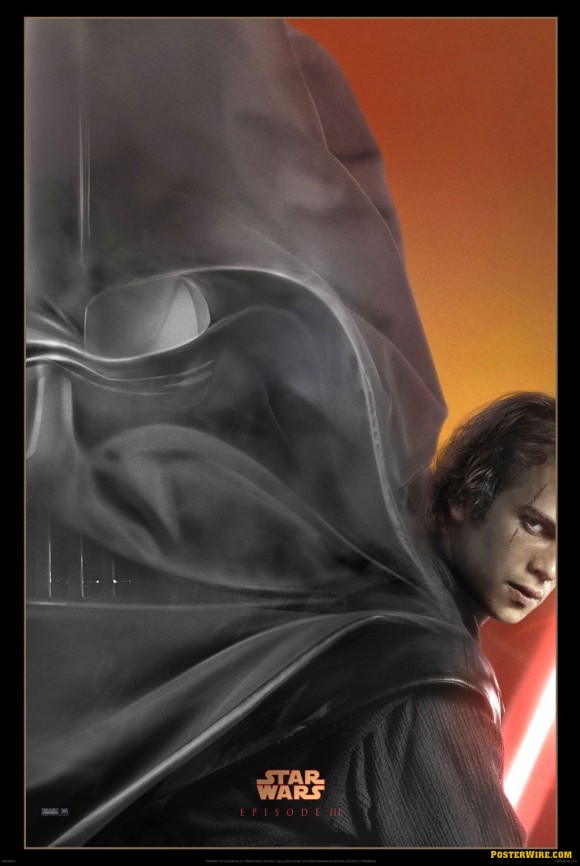 Revenge of the Sith Hidden Vader Teaser Poster
We end our Star Wars movie poster week with the end of the Star Wars saga… or rather the middle of it: Star Wars: Revenge of the Sith (Episode III), which was released in theatres this week.
We've already covered the final Star Wars Revenge of the Sith movie poster illustrated by Drew Struzan. Like the previous films, the final Star Wars key art began with the Revenge of the Sith teaser poster. The art itself is a stylized image of Anakin Skywalker, with his dark flowing cape filling most of the poster area. Looking closer (well, not that close) you can see the folds of Anakin's black cloak forming an image of Darth Vader's familiar mask… sort of. As with most things Star Wars related, the Sith teaser art generated a love it or hate it type of reaction. The idea of his cloak forming Vader's mask and helmet sounds good on paper, but we'll leave it to you to decide if the execution was successful or not.
But just to slip into the world of Star Wars geek obsessiveness, some fans believe you can see hidden images of several characters in the Sith teaser poster. Do you see images of The Emperor, General Grievous, Boba Fett and additional Vader helmets tucked away in that large cloak? While we'd be the first to embrace hidden images in a one-sheet, we think these examples belong in Jar-Jar territory — best forgotten.