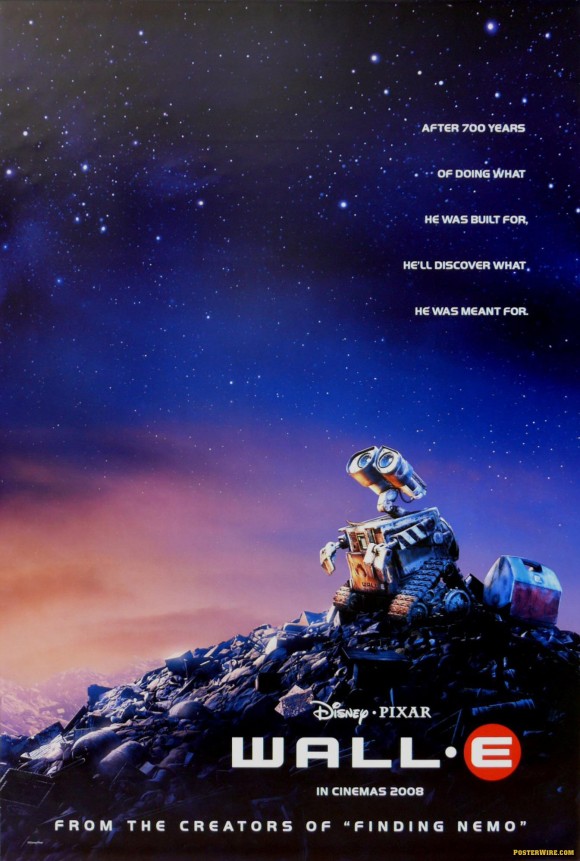 Who is Wall-E?
In the new Pixar animated film WALL-E, Earth has been overrun with trash, mankind has left, and the last remaining robot still continues his lonely duty of cleaning up the garbage.
The WALL-E (which stands for Waste Allocation Load Lifter – Earth-class) robot bears a bit of resemblance to the robot Johnny 5 from the movie Short Circuit. The Wall-E movie poster even emulates the Short Circuit movie poster both in color scheme and composition.
A interesting selection of Wall-E art can be found in a series of promotional postcards the studio released at this year's San Diego Comic-Con.





The Wall-E postcards feature a mixture of 1950s and 60s retro (with what some would call a "paleo-future") style of artwork promoting the film's robot conglomerate Buy n Large. The Wall-E movie poster does not evoke the retro-futurism and populuxe look of these promo postcards, which isn't surprising since the look of the film doesn't seem to be based on those types of design influences, unlike Pixar's previous film The Incredibles. This design disparity isn't uncommon — for example, you wouldn't know about the fantastic look of The Incredibles solely based on the look of The Incredibles movie poster artwork. Although, it would be difficult to work an Eichler into that movie poster.