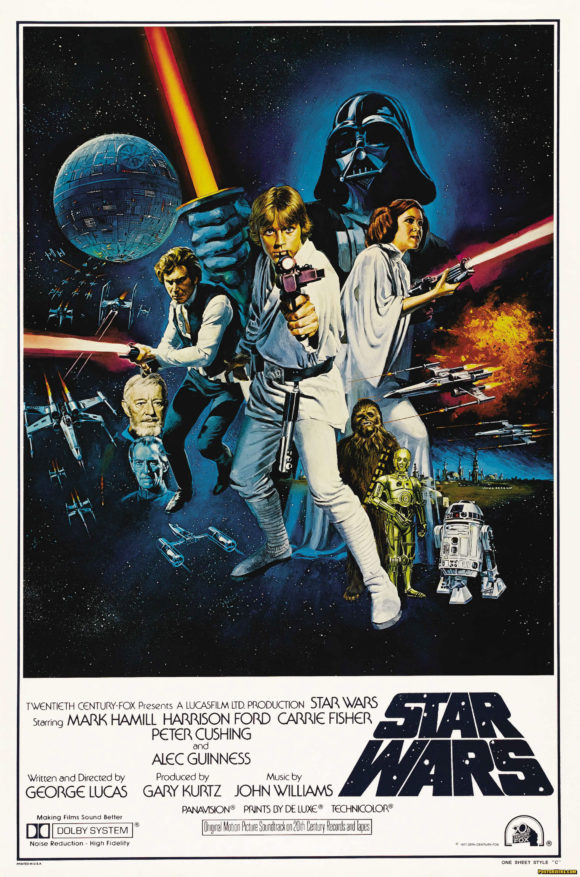 Star Wars Trilogy DVD covers
The "internets" have been abuzz about the recent Lucasfilm and 20th Century Fox announcement that the original non-special edition versions of the Star Wars trilogy — A New Hope, The Empire Strikes Back, and Return of the Jedi — will be released on DVD for a limited time. While these "Original Unaltered" DVDs sound great on paper (they could be called the "Han Shoots First" editions), details about the release have fan-boys feeling "a great disturbance in the Force, as if millions of voices suddenly cried out in terror and were suddenly silenced." The complaints being these DVDs will be using old non-anamorphic transfers last used for the 1993 Star Wars laserdisc releases and also include the previous Special Editions, meaning fans will be buying duplicates of what they already own.
The DVD cover art for the upcoming "Original Unaltered" Star Wars trilogy features photo composition style covers, rather than older illustrated poster artwork used for the original theatrical one-sheets. This continues the Fox Home Entertainment trend of doing photo based DVD artwork for Star Wars releases on DVD.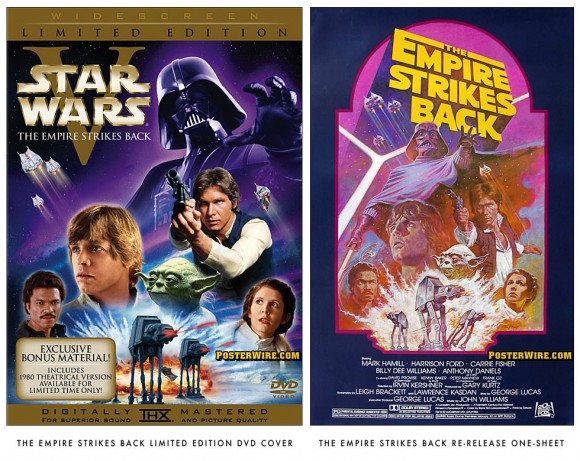 You can see a side-by-side comparison of the new DVD cover versions of the Star Wars Style C movie poster (originally illustrated by artist Tom Chantrell), the 1982 The Empire Strikes Back re-release movie poster (originally by artist Tom Jung), and The Return of the Jedi Style B movie poster (originally by Kazu Sano).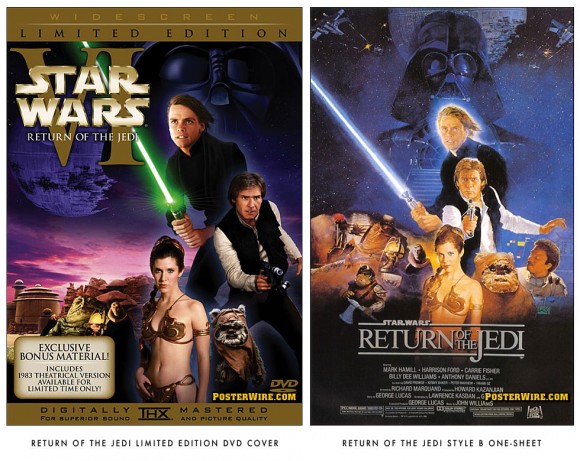 Looking at these photo compositions, we can imagine the pain of the art director(s) having to search through the empire-sized Lucasfilm photo archives to find images of specific character poses to match the vintage Star Wars one-sheet artwork they were trying to recreate. Which leads to a common question: Why do film studios sometimes create new artwork for DVD releases rather than using the original theatrical one-sheet key art? There are a myriad of possible reasons, the most common being the film studio's home entertainment division is interested in "improving" (and in some cases, rescuing) a film's theatrical release campaign. But in the case of this Star Wars (re)release, a likely reason for new poster artwork is so you don't confuse the new DVD release with all the previous editions of the same title on DVD.