Commissioned Hand-Painted Bollywood Poster
Dave Prager, of the weblog Our Delhi Struggle, details the interesting story of how he sought out a Bollywood poster painter living near Old Delhi (India) to commission a Bollywood-style movie poster from personal photographs: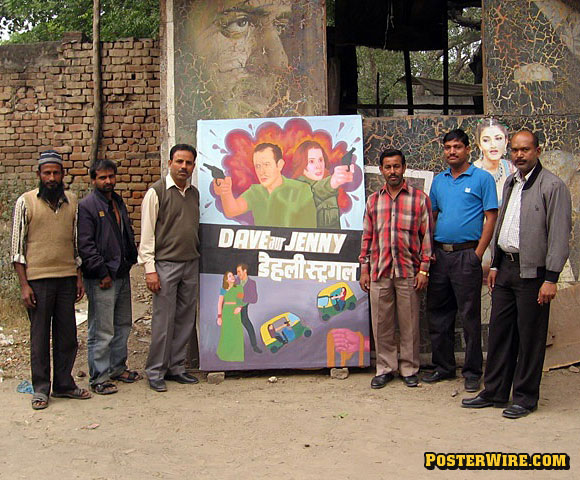 And then, two weeks after we had commissioned it, Jenny and I came to Darya Ganj to behold our first starring role, captured in perfect 1970s Bollywood style. This poster accurately recreated the most exciting experiences we've had in Delhi so far: our spontaneous dances in various grand ballrooms, the time we fought criminals as special investigators in the Delhi police force, and that awful incident when our love of diamonds and danger forced us to turn our commandeered autorickshaws against each other.
Unfortunately, India is not immune to the dying art of movie poster illustration, but it is particularly sad considering the loss of these hand painted wonders and the artists who can no longer make even a meager living creating them.
Interested in your own custom hand-painted Hindi movie poster and can't make it to Mumbai? The site Limona Studio will hire local Bollywood artists to paint one for you and ship you the movie poster painting canvas.