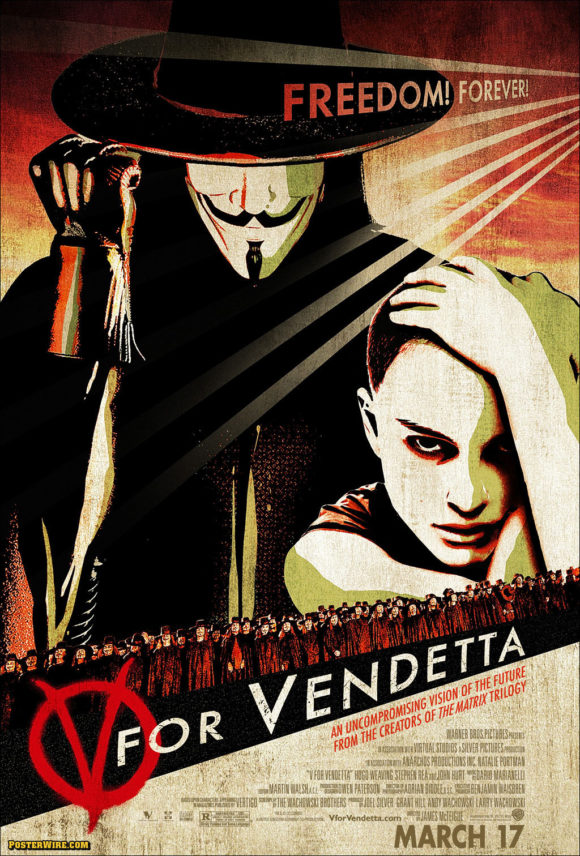 Four V for Vendetta teaser movies posters
Four new teaser posters for the upcoming film V for Vendetta have been released. The movie, based on the Alan Moore comic, follows a freedom fighter known only as "V" who uses terrorist tactics to fight against a totalitarian English society.
What makes the teaser posters interesting is the key art in each one-sheet embraces the style of political propaganda posters from the past — most notably Soviet style posters.
Our favorite V for Vendetta teaser poster of the four features a silk-screen style limited color palette. The fan-boy site Ain't-It-Cool-News labeled this poster as "Spanish & Argentian" in style. Not sure about that one — the bottom line is it's recreating a poster style common to political propaganda posters from the past. (Reader Martin S. identifies this teaser as more Russian Leninist than the idealized Stalinist style.) AICN also identifies this Vendetta teaser as "German Expressionistic", but it seems more inspired by the Russian Photomontage style as seen in this Russian propaganda poster. Since art history was never our strong subject, it's hard to classify the specific style of each of these four teaser one-sheets. We invite everyone to share opinions on this in the comments section.
The poster as a piece of political propaganda has a long history across different cultures and regimes, including Chinese, American, Soviet, and Nazi.
Buy V for Vendetta movie posters at: AllPosters, eBay, Amazon