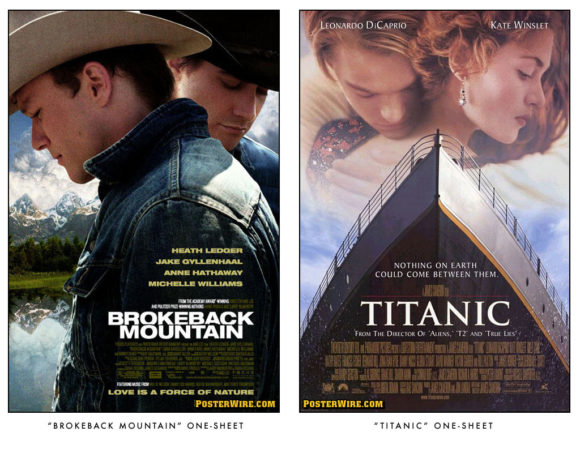 Brokeback Mountain versus Titanic
Ang Lee's new film, Brokeback Mountain, starring Heath Ledger and Jake Gyllenhaal, isn't your run-of-the-mill western… or love story. Commonly referred to as the "gay cowboy movie" (although the film's trailer and Oscar buzz imply it could rise above that label), the film could prove a tough sell to certain audiences.
For the Brokeback Mountain movie poster, the film's producer James Schamus wanted to emulate the one-sheet for the biggest film of all time — the ultimate "chick flick" — the Titanic movie poster.
When it came time to design the poster for the film, Schamus didn't research posters of famous Westerns for ideas. He looked at the posters of the 50 most romantic movies ever made. "If you look at our poster," he says, "you can see traces of our inspiration, 'Titanic'."
In this case, "traces of our inspiration" means "traces of an exact copy".
Comparing the two posters side-by-side, the similarities become clear — the layout of Heath Ledger's shoulder even matches the clothing "steam iron" ship of the Titanic one-sheet.
Buy Brokeback Mountain movie posters at: AllPosters, eBay, Amazon