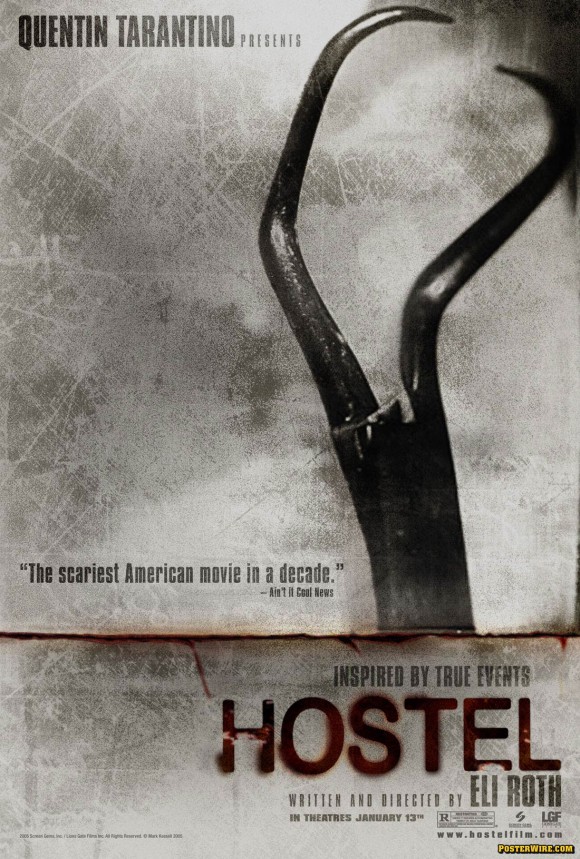 Fine art in Hostel teaser poster?
The New York Times has an interesting article about one of the teaser posters for the new horror film Hostel using a daguerreotype. (You might be asking, what the hell is a daguerreotype?)
A daguerreotype is a photograph created through an "early photographic process with the image made on a light-sensitive silver-coated metallic plate." (This early photographic process was common in the 1800s.)
For the Hostel teaser poster, Lionsgate executive VP of marketing Tim Palen was looking for a different type of image to market the gory film:
Palen figured that a poster with mangled bodies wouldn't do the trick. So he dropped by the airy, tastefully decorated Manhattan studio of the Australian photographer Mark Kessell… But it was Kessell's "Florilegium" (or "collection of floral images") daguerreotypes that caught Palen's eye. Each image is a close-up of a surgical instrument, so poetically rendered that it seems almost organic. Some of the macabre implements resemble exotic flowers.

"We were sort of blocked, and all the pieces fell into place once I saw that image," Palen said. A deal was made to use that daguerreotype, which actually shows a surgical clamp. It now appears in theaters and on widespread promotions.
The rest of the NY Times article follows the vein that fine art may be the answer to the Big Heads Floating in the Sky movie poster cliche. Considering that most smaller films don't follow that star-sell formula (horror movies usually don't have stars to market with "big heads" in the first place), the idea of using a conceptual image or piece of "fine art" in a movie poster isn't really a revelation.