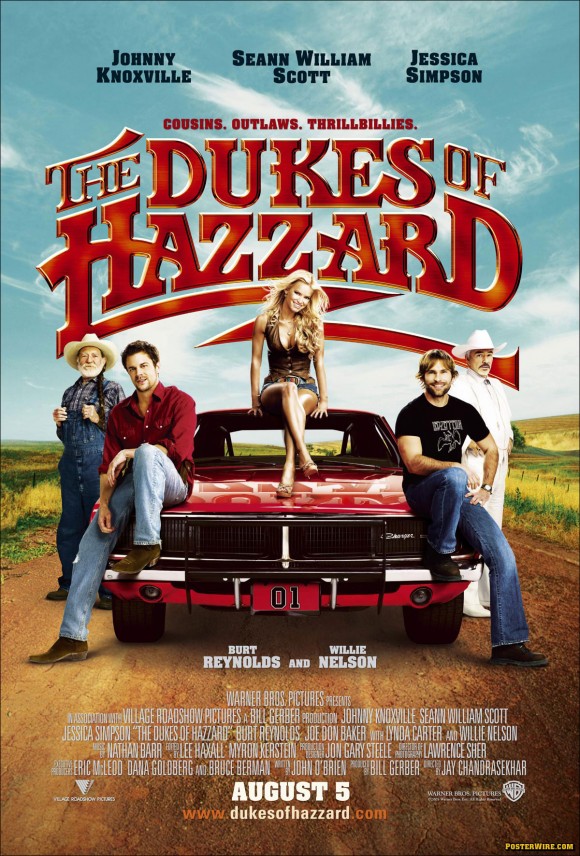 Curbing General Lee
Warner Bros. has released the The Dukes of Hazzard movie poster for the new film. All of your favorites are here: Bo, Luke, Daisy, Uncle Jesse, Boss Hogg, and most importantly, the General Lee. But is The Dukes of Hazzard one-sheet missing some other aspect of the Dukes visual lexicon?
When discussing the original Dukes of Hazzard hit TV series (which ran from 1979-1985), many people think of two things: Daisy Duke shorts and a reddish orange 1969 Dodge Charger marked "01" with a very large Confederate flag painted on the roof. And while Jessica Simpson seems to be filling in the "Daisy Dukes", the familiar Southern flag seems to be missing in action — no where to be seen on the film's poster or the movie's official site. Is the studio going out of their way not to display the "rebel flag" on the roof of the General Lee car? Is what was once used to decorate toys now a symbol of history or hatred?
From the December 24, 2004 Wall Street Journal:
Despite the car's enduring popularity, Warner Bros. executives were concerned about it — or more specifically, about the giant Confederate flag painted on the roof of the Dukes' Dodge, a person involved with the film's production said. Some studio executives were afraid that a lot of potential viewers would see it as nostalgia for the old segregationist South.

The filmmakers fretted they'd lose the show's spirit and anger old fans by ditching the flag and the car's name (or the horn, which honks "Dixie"). So they struck a compromise with the studio: Show the flag, but include scenes where it's derided as an inappropriate symbol of the dark past, the person involved in the film said.
Setting aside the civics argument about the Confederate flag, it's interesting how what was once considered a visual asset in selling a TV show 20 years ago is now suddenly a liability.
Buy The Dukes of Hazzard movie posters at: AllPosters, eBay, Amazon