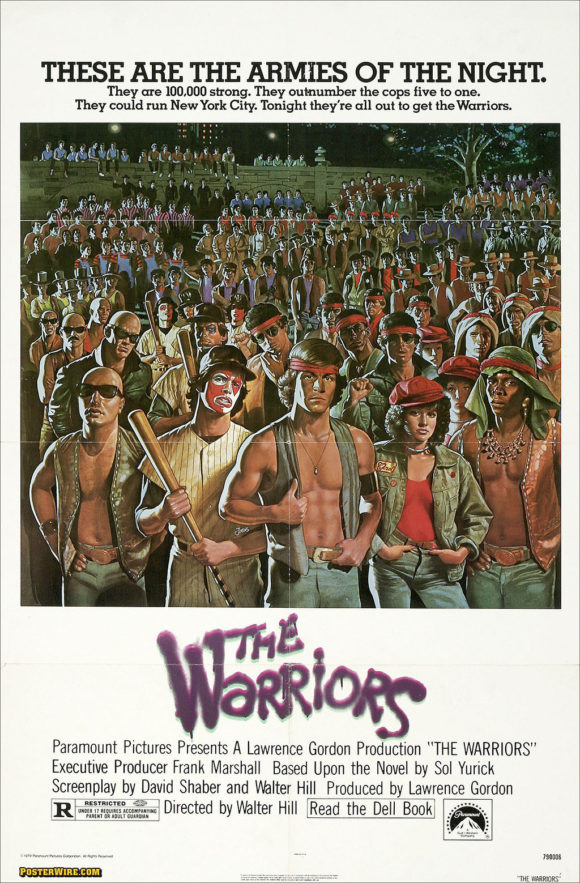 The Warriors movie poster
Director Walter Hill created a stir with his ode to 70s era gang warfare with the 1979 cult classic film The Warriors. The film follows the adventures of a New York City gang known as the "Warriors", wrongly accused of a gang leader's death, fighting their way back to their home turf of Coney Island. The film has had a surprisingly wide reach for what some consider a cheesy 70s flick. This includes the new Warriors videogame from Rockstar Games, not to mention the proposed remake.
Created by artist David Jarvis, The Warriors movie poster features a memorable illustration of key members of the various NYC gangs, including star Michael Beck, leader of the "Warriors". A member of the everyone's favorite gang, the "Baseball Furies", is also depicted. Another nice touch is the haphazard graffiti spray paint style of the film's title treatment.
The film is often mentioned with the piece of trivia that it incited gang riots in large city movie theatres when it was released. While that claim may have been true to an extent, I seriously doubt the film's one-sheet played any role in the mayhem:
After several violent incidents that occurred at various showings of the film, the producers decided to change to poster as a way of cutting down on the violence. The original poster featured the logo as well as a picture of several tough looking gang members. The second poster just featured the logo against a white background.